The Jake MacDonald International Writers' Panel
Thu. Nov. 10, 2022
This online event is free and open to the public. Please be sure to register in advance.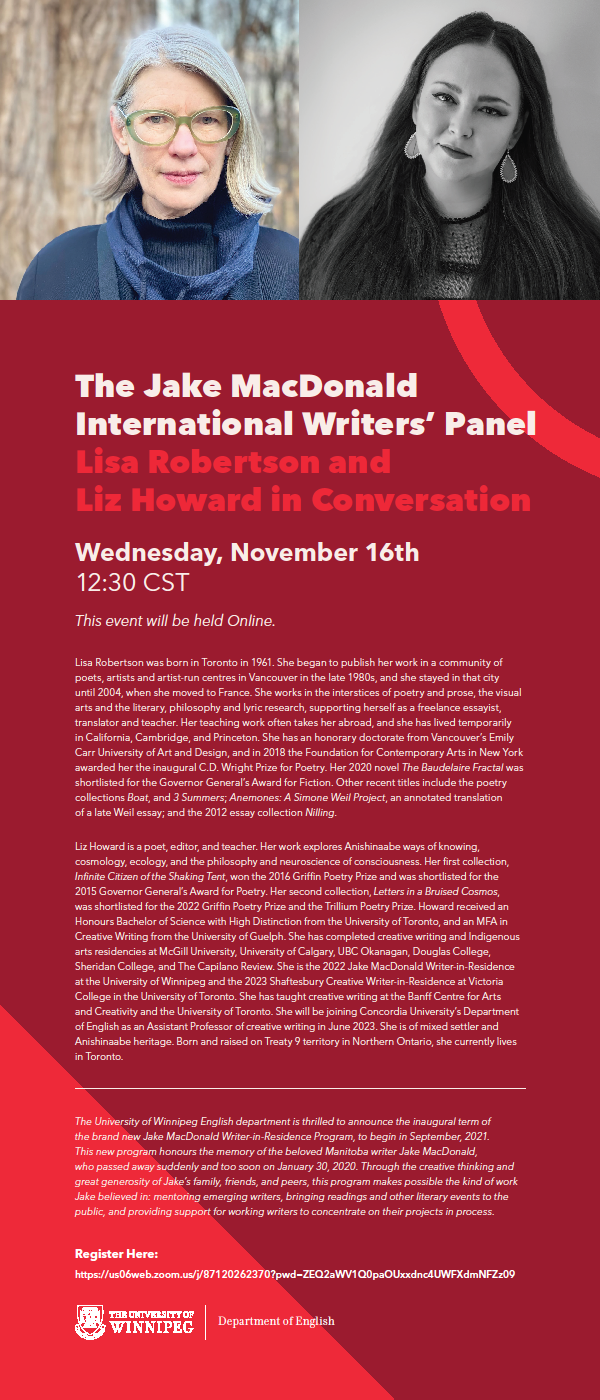 Lisa Robertson was born in Toronto in 1961. She began to publish her work in a community of poets, artists and artist-run centres in Vancouver in the late 1980s, and she stayed in that city until 2004, when she moved to France. She works in the interstices of poetry and prose, the visual arts and the literary, philosophy and lyric research, supporting herself as a freelance essayist, translator and teacher. Her teaching work often takes her abroad, and she has lived temporarily in California, Cambridge, and Princeton. She has an honorary doctorate from Vancouver's Emily Carr University of Art and Design, and in 2018 the Foundation for Contemporary Arts in New York awarded her the inaugural C.D. Wright Prize for Poetry. Her 2020 novel The Baudelaire Fractal was shortlisted for the Governor General's Award for Fiction. Other recent titles include the poetry collections Boat, and 3 Summers; Anemones: A Simone Weil Project, an annotated translation of a late Weil essay; and the 2012 essay collection Nilling.
Liz Howard is a poet, editor, and teacher. Her work explores Anishinaabe ways of knowing, cosmology, ecology, and the philosophy and neuroscience of consciousness. Her first collection, Infinite Citizen of the Shaking Tent, won the 2016 Griffin Poetry Prize and was shortlisted for the 2015 Governor General's Award for Poetry. Her second collection, Letters in a Bruised Cosmos, was shortlisted for the 2022 Griffin Poetry Prize and the Trillium Poetry Prize. Howard received an Honours Bachelor of Science with High Distinction from the University of Toronto, and an MFA in Creative Writing from the University of Guelph. She has completed creative writing and Indigenous arts residencies at McGill University, University of Calgary, UBC Okanagan, Douglas College, Sheridan College, and The Capilano Review. She is the 2022 Jake MacDonald Writer-in-Residence at the University of Winnipeg and the 2023 Shaftesbury Creative Writer-in-Residence at Victoria College in the University of Toronto. She has taught creative writing at the Banff Centre for Arts and Creativity and the University of Toronto. She will be joining Concordia University's Department of English as an Assistant Professor of creative writing in June 2023. She is of mixed settler and Anishinaabe heritage. Born and raised on Treaty 9 territory in Northern Ontario, she currently lives in Toronto.