Jordan Scott announced as 2022 Carol Shields Writer in Residence
Wed. Feb. 2, 2022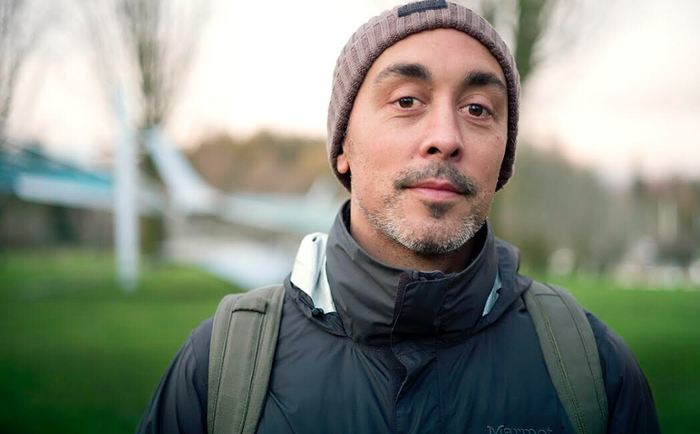 Reading and Q and A with Dr. Sandy Pool Wednesday, February 16 7:00pm (CST)
Carol Shields Memorial Lecture Wednesday, March 2 7:00pm (CST)
Both events are free and open to the public. Please be sure to register in advance.
Jordan Scott is an internationally acclaimed poet and children's author. His debut children's book, I Talk Like a River (illustrated by Sydney Smith) by Holiday House / Neal Porter Books, was a New York Times best Children's Book of 2020. I Talk Like a River is translated into nineteen languages and was the recipient of the recipient of the American Library Association's, Schneider Family Book Award, which honors authors for the artistic expression of the disability experience. The book has also won an International Literacy Association Children's Book Award, that recognizes newly published authors who exhibit exceptional promise in the children's and young adults' book fields. I Talk Like a River was also nominated for the 2021 Christie Harris Illustrated Children's Literature Prize (BC and Yukon Book Prizes) and the Governor General's Literary Prize for Young People's Literature. Scott's second and third books of children's literature are slated for publication in 2022 and 2024 through Holiday House / Neal Porter Books.
Scott is also the author of four books of poetry: Silt (Newstar Books) Blert, DECOMP, and Night & Ox (all from Coach House Books). Blert, which explores the poetics of stuttering, is the subject of two National Film Board of Canada projects. Scott's other books include Clearance Process (SMALL CAPS), and Lanterns at Guantánamo (Simon Fraser University). Both books treat his experience after being allowed access to Guantanamo Bay in April 2015. Scott was the 2015/16 Ellen and Warren Tallman Writer-in-Residence at Simon Fraser University and has read from his work throughout North America and Europe. In 2018 Scott was the recipient of Latner Writers' Trust Poetry Prize, given to a mid-career poet in recognition of a remarkable body of work, and in anticipation of future contributions to Canadian poetry. For Greystone Books, Scott is currently working on I Stutter; I Lie: a memoir of dysfluency, power, and truth.
Jordan will be in residence from February 7 to March 11, 2022.