Andrew Burke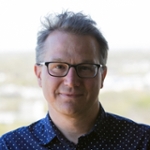 Title: Associate Professor
Phone: 204.789.1475
Office: 2A30
Building: Ashdown
Email: a.burke@uwinnipeg.ca
Biography:

Andrew Burke specializes in Film and Television Studies, Cultural Studies, and Popular Music Studies. His book, Hinterland Remixed: Media, Memory, and the Canadian 1970s, is forthcoming from McGill-Queen's University Press. He is a co-investigator on the SSHRC Partnership Grant, Archive/Counter-Archive (2018-2023), leading the case study on the Winnipeg Film Group. He is also an International Research Fellow at the Institute of Advanced Study at the University of Warwick, collaborating on "Community Engagement and the Television Archive," an international research project on popular memory and television history. He is currently writing a book, provisionally titled "Cinema and the Object World of Modernity," that tracks the global circulation of designed objects in the cinema of the 1960s and 70s.
https://warwick.ac.uk/fac/arts/film/cthhmr/news/researchnews/iasivf
Teaching Areas:

Film and Television Studies, Cultural Studies, Critical Theory, Victorian Studies, Popular Music Studies
Courses:

(W) ENGL-1004.3-001 Intro Reading Culture: Visualizing Winnipeg
(F/W) ENGL-2146-050 Screen Studies
(F/W) ENGL-4110-001 Topics in Critical Theory: Pop/Music/Theory
Publications:

Hinterland Remixed: Media, Memory, and the Canadian 1970s. Montréal and Kingston: McGill-Queen's UP. Forthcoming Fall 2019.

"Stand Tall: Winnipeg Cinema and the Civic Imaginary." Oxford Handbook of Canadian Cinema. Ed. Janine Marchessault and Will Straw. Oxford: Oxford UP, 2019. 269-84.

"'The Perfect Kiss': New Order and the Music Video" Music/Video: Histories, Aesthetics, Media. Ed. Gina Arnold, Danny Cookney, Kirsty Fairclough-Isaacs, and Michael Goddard. New York: Bloomsbury, 2017. 79-90.

"ZooTube: Streaming Animal Life." The Zoo and Screen Media: Images of Exhibition and Encounter. Ed. Michael Lawrence and Karen Lury. New York: Palgrave, 2016. 65-83.

"'Trademark Ribbons of Gold': Format, Memory, and the Music of VHS Head." Popular Music and Society 38.3 (2015): 355-71.