Patrick Mahon - Water Structures: Printed Sculptural Works, 2012-2014
Patrick Mahon - Water Structures: Printed Sculptural Works, 2012-2014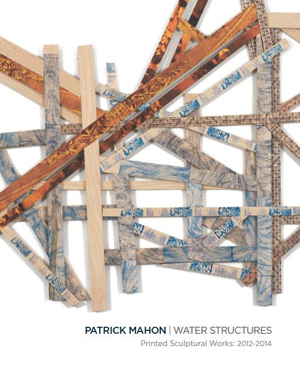 Friday, May 2 at 7:00 p.m. at McNally's Grant Park location in the Atrium
(1120 Grant Avenue in Winnipeg)
Gallery 1C03 at The University of Winnipeg, in partnership with McNally Robinson Booksellers, is pleased to launch the publication Patrick Mahon - Water Structures: Printed Sculptural Works, 2012-2014. The launch will feature a conversation between catalogue contributor Robert Enright and artist Patrick Mahon.

Winnipeg-born artist Patrick Mahon presented a solo exhibition titled Water Memory Table at Gallery 1C03 in January and February of 2014. His book Water Structures documents the work he created for that show and for two other recent exhibitions featured in Waterloo (at Robert Langen Gallery) and in Hamilton (at McMaster Museum of Art). The publication focuses on Mahon's printed sculptural works that reference towers and shipwrecks, and act as metaphors regarding human/nature relationships concerning water in a time of global transition. Water Structures includes an interview with Robert Enright, and essays by Anne Brydon and Ihor Holubizky.

Patrick Mahon is an artist, curator and teacher/academic; he has been on faculty in Visual Arts at Western University since 1995. His work includes projects that engage with historical and contemporary printmaking, involves community-based art initiatives, and responds to the environment. Mahon's artwork has been exhibited widely in Canada and internationally. Born and educated in Winnipeg, he lives in London, Ontario, and is represented by Katzman Contemporary in Toronto.

Robert Enright is a critic and curator. He is senior contributing editor and film critic for Border Crossings magazine and Research Professor in Art Theory and Criticism in the School of Fine Art and Music at the University of Guelph. He has contributed introductions, interviews, and essays to 80 books and catalogues in Canada, the United States, and Europe. In 2005 he was made a Member of the Order of Canada.

Admission to this event is free and everyone is welcome. Wheelchair accessible.