Storytime Publication Launch
Gallery 1C03
---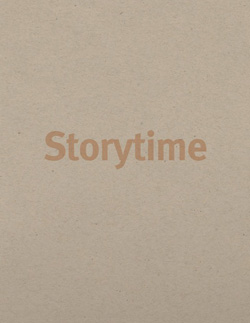 Gallery 1C03, in partnership with McNally Robinson Booksellers, is pleased to launch its most recent publication, Storytime: Glen Johnson and Leslie Supnet on Thursday, June 20 at 7:00 p.m. at McNally's Grant Park location (1120 Grant Avenue in Winnipeg).
In Storytime, writer/performance artist Glen Johnson and visual artist/animator Leslie Supnet collaboratively create paired stories and drawings that replicate children's-style books, but with a subtly adult tone. This illustrated publication features a critical essay by Tom Kohut which employs Gertrude Stein's unit of composition to consider the unexpected trajectories of Johnson and Supnet's work.

Storytime was originally presented as an exhibition for Gallery 1C03 in September of 2012. At the launch, Gallery 1C03 Director/Curator Jennifer Gibson will introduce the publication and author Glen Johnson. Johnson will be on hand to deliver a performative story reading.

Glen Johnson is a Winnipeg-based writer, installation and performance artist whose work invariably involves text (especially when he is writing). Johnson tells stories as "Uncle Glennie" and as himself, he has delivered faux lectures to stunned audiences in at least three provinces. He has hung a bed on one wall and nailed tiny words to another. In 2011 he created the Artistic Licence Bureau for the Platform Centre for Photographic and Digital Arts. Johnson has exhibited and/or performed at aceartinc, The Annex, ATOMIC, Gallery 803, Mount Saint Vincent University, The National Gallery of Canada, The Tallest Poppy, Video Pool Media Arts Centre and the Winnipeg Art Gallery. He is also responsible for the website www.persiflage.ca. Johnson received a Bachelor's Degree in Classics from The University of Winnipeg in 1993 and expects that some day they will ask for it back.

Leslie Supnet is an animator and illustrator from Winnipeg, who engages in personal and lyrical narratives, often tackling themes of struggle and existence, using introspection as a necessary ingredient in all of her work. Supnet has a Bachelor of Science degree in Applied Mathematics from The University of Winnipeg. As a visual artist, she has trained through workshops and mentorship programs with the Winnipeg Film Group, Martha Street Studio and MAWA, among others. She has subsequently taught animation and printmaking workshops for these organizations. Since creating her first animation in 2007, her filmography has grown to include 12 works, with screenings at over 100 film festivals worldwide including International Short Film Festival Oberhausen, European Media Art Festival, Images Festival, International Film Festival Rotterdam and Image Forum Film Festival. Supnet received the Manitoba Emerging Film Maker award by The Winnipeg Film Group in 2009, and was awarded Best Super 8 in 2010 for her animation Sun Moon Stars Rain at the Calgary Society of Independent Filmaker's $100 Film Festival. She was recently awarded the 2012 Winnipeg Arts Council's RBC On The Rise Award.

Tom Kohut holds a Masters Degree in English from Queen's University (Kingston, Ontario) and has written on visual arts, new media and film locally and nationally. He currently lives in Winnipeg, Manitoba and maintains the website The New Ennui.