Student Success Story
Reaching for the stars
Space exploration was Stephanie Connell's first love and her earliest dream. With UWinnipeg's help, she's acheived her lifelong goal of working for NASA.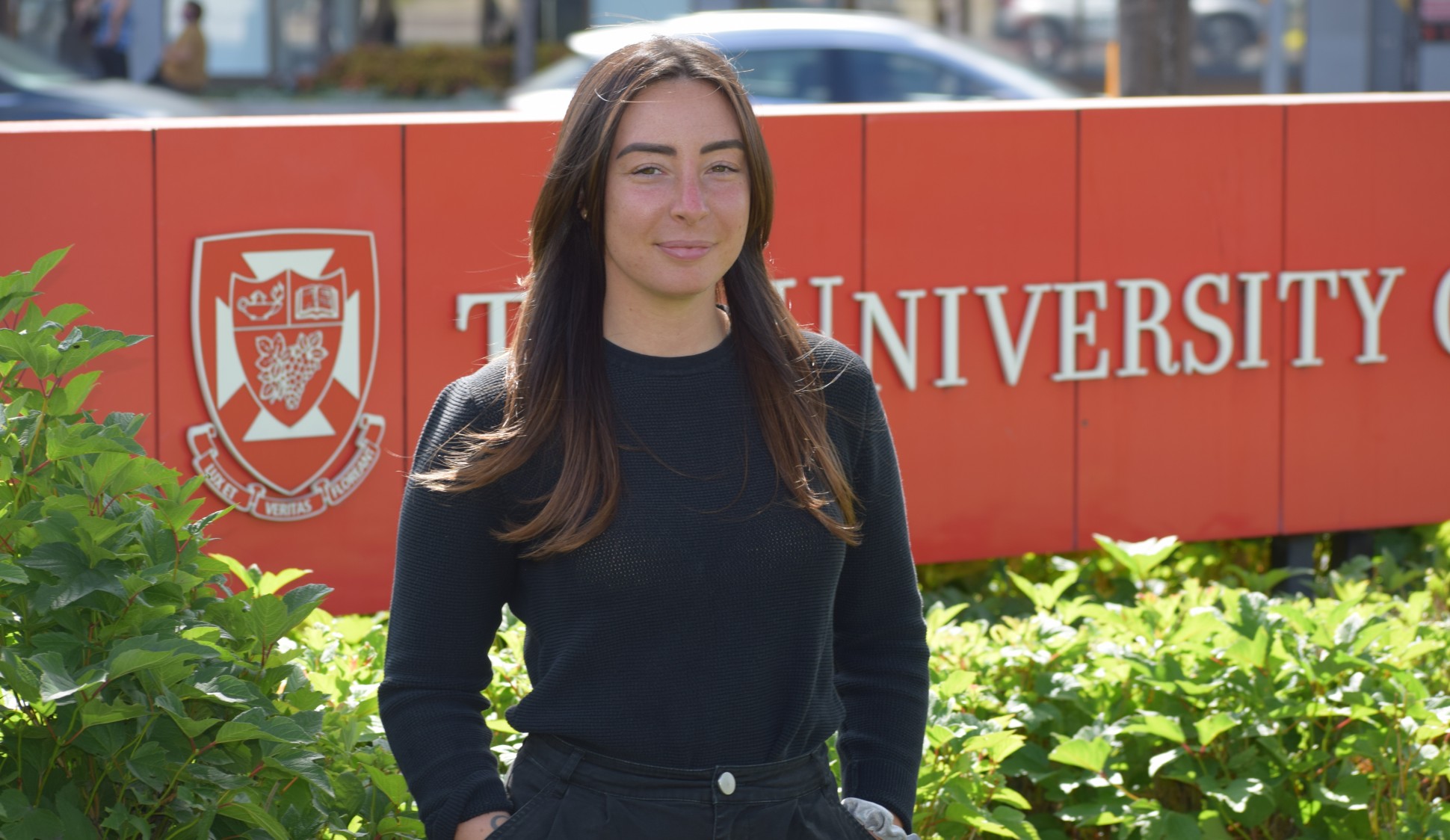 Stephanie Connell fell in love with space growing up watching Star Wars and Star Trek with her dad. While she loved the movies, Stephanie was more curious about the actual science of space than the science fiction.
Want to know more about Environmental Studies and Sciences at UWinnipeg?
Get in touch
After learning that people had landed on the moon, eight-year-old Stephanie told her dad that she'd be working with NASA one day.
Meeting a mentor
After starting her studies at UWinnipeg in 2015, initially as a part-time environmental studies and science student, Stephanie met Dr. Ed Cloutis while taking his Intro to Earth Science class.
That's when everything changed for her.
"He was telling the class about his involvement in planetary missions and was talking about the NASA Curiosity rover," she said. "I couldn't believe there was a professor at UWinnipeg involved with anything to do with NASA."
After emailing back and forth with Dr. Cloutis, he offered her a job in his Centre for Terrestrial and Planetary Exploration (C-TAPE) lab even though she was a first-year student with no lab experience.
"I always encourage other students to approach professors they're interested in as they might be looking for students," she said. "If you make relationships with professors and get to know them and show interest in their research, you'll have an easier time finding a research job."
Gaining altitude
Over her five years at UWinnipeg, Stephanie has attended the Lunar and Planetary Science Conference in Houston, Texas; participated in a four-week simulated lunar exploration rover mission at Western University; published numerous abstracts and posters; and is currently working on her first publication.
In addition, Stephanie is also the Science Lead and Payload Manager for the Iris CubeSat mission, which is a student-led space mission that will aid in conducting the first geological space weathering experiment in low-Earth orbit. Stephanie, along with the team, has presented project milestones to the Canadian Space Agency.
Making dreams come true
Stephanie's big break with NASA came after Dr. Cloutis volunteered her for pre-mission ops with the Perseverance rover mission. "It really happened out of nowhere," Stephanie laughed. "Dr. Cloutis let me know he got an email from someone looking for students to participate in pre-mission ops and told me he put my name down."
Beyond excited for the opportunity, she started training with NASA during fall 2020 and throughout the winter. Stephanie is now an instrument rep for SuperCam, which is mounted on the NASA Perseverance rover. She officially started working with the agency in March 2021 following the rover's landing on Mars.
"Working on a NASA rover mission is so cool that sometimes I still cannot believe it's happening," she said. "I started off shooting rocks with lasers in the lab and doing Mars-relevant research, and now I actually get to shoot rocks with lasers on Mars to find out the rock's composition."
Stephanie's Three Favourite Space Movies
01

Interstellar

One of the things I love about the movie Interstellar is the soundtrack and I, of course, liked the element of interstellar space travel. As an environmental science student learning about the past, present, and future state of the Earth, I thought Interstellar had a good message behind it about what circumstances the Earth could potentially be in if we continue to harm our planet.

02

The Martian

The Martian is an easy one for me because it's about Mars, which is one of my favourite planets to learn about, besides Earth. It particularly caught my interest because not only do I think it is well done, but I would love to take a trip to Mars someday and I felt like it gave me insight into what that could potentially be like as an astronaut.

03

2001: A Space Odyssey

2001: A Space Odyssey is a favourite because I think it is so visually appealing and such a classic. I remember my dad watching it when I was younger and then later watching it as an adult, and it still being just as good if not better. Given that the movie was produced in the 1960s, I feel like it was way ahead of its time. I would say this movie, along with a few others, got me interested in space from a young age.