Inaugural MDP Cohort Graduates At 100th Convocation
Thu. Oct. 17, 2013
"The multidisciplinary approach of the MDP program really has changed the way I see development. I found that on my final practicum I was seeing projects in a much more enlarged and holistic way than before." Susan Maxson, MDP Graduate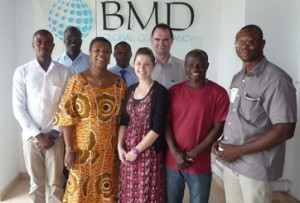 MDP students in Ghana, May 2013
WINNIPEG, MB – Eight University of Winnipeg graduates will join the prestigious ranks of the international network of Master's in Development Practice (MDP) practitioners working around the globe, on Friday, October 18 at UWinnipeg's 100th Convocation. The inaugural class of graduates has completed two years of intensive study and two distinctive practicums (one domestic, one international) with a focus on Indigenous development that serves to differentiate the program from the other 24 participant universities in the network.
"These students have worked hard and have much to celebrate," commented Dr. Mavis Reimer, UWinnipeg Dean of Graduate Studies, and Canada Research Chair in Young People's Texts and Cultures. "As graduates of the MDP Program, they join a new generation of development practitioners who have learned to understand development broadly, as a set of interconnected issues, rather than through the lens of a narrow specialization."
MDP practitioners are trained to understand and manage global sustainable development challenges across health, natural, social sciences and management disciplines.
Practicums for MDP students include placements in our community (UWinnipeg Community Renewal Corporation), across Canada (Blue Quills First Nations College, St. Paul, Alberta) and around the world (Trust for Okavango and Development Initiatives, Botswana; University of Development Studies, Ghana; Indigenous Tourism Network. Mexico).
"Our MDP graduates have a breadth of training that has connected them to a network of global classrooms including the Earth Institute at Columbia University," explained Dr. Lloyd Axworthy, UWinnipeg President and Vice-Chancellor. "This network provides our students with a competitive knowledge base to be more effective and better understand the root causes of extreme poverty and the challenges of sustainable development."
The eight graduates are Tatenda Bwawa (Zimbabwe), Alejandro Dominguez-Suberbie (Mexico), Reuben Garang (South Sudan), Kirsten Junker-Anderson (Canada), Sunday Lizu (Zambia),
Susan Maxson (Canada), Megan Prydun (Canada), Ian Toal (Canada). Meet the students at http://www.uwinnipeg.ca/index/mdp-students.
MDP
CN is a founding partner of the MDP program. UWinnipeg's MDP uniquely combines academic and practical aspects of development with a focus on Indigenous Peoples and is supported by a grant from the prestigious MacArthur Foundation. MacArthur Foundation brought the inspiration, energy and resources to create the new Master's programs in sustainable development practice at universities worldwide.  Learn more about this degree program at http://mdp.uwinnipeg.ca  or email mdp@uwinnipeg.ca
Visit uwinnipeg.ca/convocation to learn more about UWinnipeg's 100th Convocation, which takes place on Friday, October 18, from 2:00 pm to 4:30 pm at Duckworth Centre, 400 Spence Street.
MEDIA CONTACT
Naniece Ibrahim, Communications Officer, The University of Winnipeg