Richard Westwood
Professor
---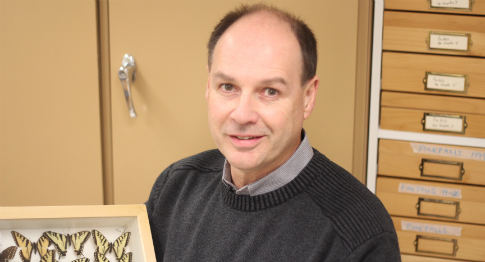 Contact Information
Department:
Environmental Studies and Sciences
Fields:
Biodiversity
Conservation
Environment
Forestry
Entomology
Areas of Expertise:
Biodiversity
Endangered Species
Entomology
Forestry
Urban Forestry
Languages Spoken:
Available To:
Appear on radio or TV
Provide comment to media
Discuss research with industry, government, and others
About:
Richard Westwood is the Chair of the Bioscience MSc Program in the Department of Biology and Chair of Department of Environmental Studies and Science at The University of Winnipeg. He teaches courses in entomology, urban forestry and arboriculture, forest health and protection, research design, and methodology and environmental impact assessment.
His current research focuses on a wide variety of projects including conservation and protection of threatened and endangered butterflies in prairie ecosystems; impacts of forestry activities on butterfly, moth and plant diversity in boreal forests; impacts of climate warming on insect biology and ecology; conservation of insect pollinators in tall grass prairie habitats; and improved tree health management techniques in urban forests and commercial forestry landscapes. He is a co-author of The Butterflies of Manitoba, has published more than 40 scientific papers on his research, and has studied the impacts of natural and human caused disturbances to plant and insect diversity for 40 years.
Media and Research Expert