Speakers Series
2021-22 Guest Speakers
Date: Monday, April 11, 2022; 8:30 am - 4:30 pm CST
The Criminal Justice Department Presents CJ DAY: Showcasing CJ-4123 Capstone Thesis Presentations and CJ-4800 Research Field Practicum Poster Presentations. 
Where: Convocaton Hall, 2nd Floor Wesley Hall or to attend virtually please register to recieve a Zoom link:
https://us06web.zoom.us/webinar/register/WN_mP4sYpNmR3aC2D8QRW-IWg
Details: Presentations from the CJ-4123 Capstone Honours students and a poster presentation from the CJ-4800 Research Field Practicum students. No registration is required; come for the whole day or drop in on a few sessions. 
| | | |
| --- | --- | --- |
| 8:30 am | Refreshments | |
| 8:40 am | Opening Remarks | Dr. Gorkoff, Dr. Dobchuk-Land |
| 8:45-10:10 | Jared Chimuk | From Overseers to Jailors: The Social Construct of Criminal Youth in Canada |
| | Marcos Sobral | Reid, Oickle, and Admissibility: Interogation Techniques and False Confessions in Canada |
| | Sophie Wynne | Barriers to Justice for Sexual Assault Survivors: Sexual Assault Attrition in the Canadian Criminal Justice System |
| | Samuel Selk | Policing and the Advancement of Techhology: Examining How Law Enforcement Agencies Justify the Adoption of Aerial Drones |
| 10:20-11:45 | Breanna Baillie | The Involvement of Youth in Manitoba Juvenile Crime Prevention Programs |
| | Shelly Klyne | Challenging the Decolonizing Narrative in Criminal Justice: A Case Analysis on Indigenous Restorative Justice Processes |
| | Lori McLeish | The Cod Collapse and Criminality on Canada's East Coast |
| | CameronFranzmann | The Cannabis Conundrum: Do the Drug Laws in Canada Allow for Equal Participation |
| 11:45 | | CJ-4800 Reserach Field Practicum Poster Presentations |
| 1:30-2:55 | Meara House | These Paws Uphold Watever Laws We Please: An Analysis of Police Representations in "PAW Patrol" |
| | Camila Lerner | A Technopanic Analysis of Online Child Sexual Exploitation in to Catch a Predator |
| | Elise Diplock | Media Portrayals of Missing Person in Manitoba |
| | Simran Sidhu | Investigating Representations of Communications Security Establishment Canada (CSEC), Transparency, and Accountability |
| 3:05-4:30 | Julia Jumaga | How to Best Police Child Abuse, a Qualitative Comparative Analysis on Police Responses to Child Abuse in Canada |
| | Brittany Windsor-Brown | Child Forensic Interviews and their Impact on Court Processes |
| | Mekaela Marcalinas | News Media Portrayal of Gender and Sexual Offenses Against Children |
| | Tiana Crawford | Is Surveillance and Control Warranted Among All Sex Offenders?  |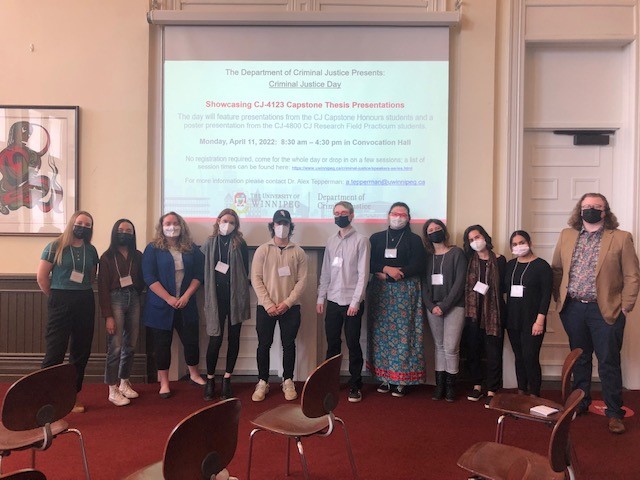 ---
Date: Monday, March 21, 2022; 12:30 -1:20 pm CST
Dr. Dawn Moore - Carleton University
"Prison Transparency Project: Human Sources of Information, Accountability and Cultures of Transparency in Violent Penal Landscapes of Argentina, Canada and Spain."
The Prison Transparency Project is a collaboration between researchers from Argentina, Spain and Canada intent on pushing for greater transparency and accountability in prison systems the world over. It is intended to explore prisoners' experiences of incarceration intended to identify major issues facing prisoners (including immigration detainees) and intends to highlight the range and variety of experiences given these factors.
Dawn Moore is Professor of Law and Legal Studies at Carleton University.  Alongside 20 years of prisoner solidarity work, Moore has researched and written on prison governance, transparency and prison conditions for two decades.  Complemented by her anti-carceral feminist work on gender-based violence and police investigations, Moore founded the PTP (Prison Transparency Project) in 2016.  Since then, working with a team of Canadian and international scholars to document the mechanisms of transparency and veiling of rights abuses in prisons systems on three different continents.  Moore currently has several writing projects and a book project on the go.  She is most excited to be writing alongside community members about their lived experiences in the criminal justice system. Dr. Dawn Moore - Prison Transparency Project (carleton.ca)
Please contact Alex Tepperman a.tepperman@uwinnipeg.ca or Janet Turner ja.turner@uwinnipeg.ca for Zoom link and passcode. 
---
Date: Wednesday, February 9, 2022; 12:30 - 1:20 pm CST
Dr. Ben Pauli - Kettering University, Flint MI
"Flint Fights Back: Environmental Justice and Democracy in the Flint Water Crisis "
Eight Years In: The Flint Water Crisis and the Ongoing Fight for Environmental Justice and Democracy in Flint, Michigan.  Since April 2014, when an unelected "emergency manager" oversaw the switch of Flint, Michigan's municipal water supply to the Flint River, leading to bacterial, lead, and other kinds of contamination, Flint activists have been fighting two interrelated battles: a battle for clean, safe, affordable water, and a battle for democracy. On both fronts, much has been accomplished, but much also remains to be done. This talk will offer an overview of the Flint water crisis and the grassroots response to it, as well as providing an update on where the struggle for justice stands now.  
Dr. Benjamin Pauli is an Associate Professor of Social Science at Kettering Univerisyt in Flint MI. He is the president of the board of the Environmental Transformation Movement of Flint (etmflint.org), vice-chair of the Flint Water System Advisory Council, and a member of the Flint Area Health and Environment Partnership. He is also a representative of the academic community on the EPA's National Environmental Justice Advisory Council. His interests include issues of water and trust, water governance, environmental justice, and principles of engagement and collaboration in community-based research. 
Flint Fights Back: Environmental Justice and Democracy in the Flint Water Crisis (MIT Press 2019): https://mitpress.mit.edu/books/flint-fights-back
Please contact Alex Tepperman a.tepperman@uwinnipeg.ca or Janet Turner ja.turner@uwinnipeg.ca for Zoom link and passcode. 
---
Date: Tuesday, October 26, 2021; 4:00 - 5:00 pm CST
Dr. Grant Teitjen - St. Ambrose University
"Speaking with Conviction: A Critical Conversation of the Ongoing Language Debate in Convict Criminology"
Dr. Grant Tietjen received his PhD in Sociology from the University of Nebraska-Lincoln. At St. Ambrose University he teaches criminal justice courses and specializes in convict criminology and prison reform. He is the Chair of the American Society of Criminology's Division of Convict Criminology.
Discussant: Rachel Fayter - University of Ottawa. Rachel's research focuses on how women in prision biuld the resilience they need to survive. 
Please contact Alex Tepperman a.tepperman@uwinnipeg.ca or Janet Turner ja.turner@uwinnipeg.ca for Zoom link and passcode. 
---
Date: Tuesday, October 5, 2021; 1:00 0 2:00 pm CST
Dr. Sanna King - Mississippi State University
The Push Towards Institutional Control: Structural Violence and Youth in Hawai'i
Dr. Sanna King is an Instructor of Sociology at Mississippi State University. Her scholarly interests are in the areas of race/ethnicity, gender, colonialism, criminology, racialized punishment, and juvenile justice. Her research broadly focuses on the intersectionality of racialization and gender in youth punishment. Her current research examines youth punishment in Hawaiʻi, specifically focusing on the connection between schools and jails.
Please contact Alex Tepperman a.tepperman@uwinnipeg.ca or Janet Turner ja.turner@uwinnipeg.ca for Zoom link and passcode. 
---
2020-21 Guest Speakers
---
Date: Wednesday, February 24, 2021; 12:30-1:30 pm
Dr. Jacqueline Briggs
Networks of Colonial Governance: The Influence of Indigenous Advocates on Department of Indian Affairs Legal Aid.
The Department of Indian Affairs legal aid program funded over 300 defences for status Indians charged with capital murder from the 1880s through the 1960s. This presentation provides an overview of the network of settler legal actors who co-produced the legal aid program (Lawyers, Judges, Indian Agents, and Bureaucrats in the DIA and Department of Justice), exploring their self-interested and often competing motivations. Highlighting two influential Indigenous advocates who participated in and critiqued the program in the 1940s and 1950s, the presentation concludes with a discussion of colonial governance in the criminal justice system in Canada - historically and in the present. 
Jacqueline Briggs is a PhD Candidate at the University of Toronto's Centre for Criminology and Sociolegal Studies and a Lecturer in Law and Society at Concordia University.
In order to register for the event and receive zoom details, please use the following link: https://zoom.us/meeting/register/tJUlfuuvrzgtE9wUAjCZRRR_VZHvy6xAPuzW
---
Date: Tuesday, January 19, 2021; 12:30-1:30 pm
Dr. Vanessa Iafolla
The Use of Kinship Ties in Loan Sharking to Manage Lending Risks
The importance of personal networks in organized crime in general is well-documented; less well studied is the importance of personal networks to the success of aftermarket lending, or loan-sharking, as a business practice. I examine the role of kinship networks in aftermarket lending in Toronto, wherein credit is privately extended at higher interest rates outside formal economic institutions like banks or payday lending. My research demonstrates that the accumulation of capital for lending purposes is achieved through private networks, either through close business ties or through kinship ties; the trust implicit in these personal relationships means that the risks of failed loans go beyond the non-credit losses and write-offs of formal institutional lending. Rather, the risks of losing money one has invited one's brother, business partner, or girlfriend to invest can have both financial and social repercussions. Through in-depth interviews with these private, liminally legal lenders, I examine how aftermarket lenders decide to take borrowers on as good economic risks, particularly when the enforcement of repayment is not subject to the same contractual processes as in mainstream lending. In financial institutions, interest rates and loan amounts are informed by risk calculations of credit histories. This information is not available to loan sharks. Examining the nature of trust and risk in decision-making about how much to lend and to whom can shed light on this question, and how personal ties can be used to generate funds for lending, to gather information about a person's private activities that a loan shark might conceive of as risks to ensure regular interest payments and the full repayment of a loan. How these lenders work together, sharing knowledge of client lending histories, referring clients who exceed their personal risk tolerance to each other, and collaborate to ensure repayment demonstrates that in questionably legal networks, personal ties and intimate knowledge of clients and colleagues is crucial to minimizing the risks inherent in a risky business.
Vanessa Iafolla is an Assistant Professor at Saint Mary's University in Halifax, Nova Scotia. She holds a doctorate in Criminology and Sociolegal Studies from the University of Toronto. Her doctoral research focused on the development of Canadian anti-money laundering and counter-terrorist financing legislation and its implementation in retail banking. She is currently working on a pilot project that examines anti-money laundering and counter-terrorist financing practices by individuals working in real estate. She has given expert testimony at the House of Commons for Canada's statutory review of the Proceeds of Crime (Money Laundering) Terrorist Financing Act and provided expert opinions to Members of Parliament, and given presentations on money laundering at various industry and academic conferences. Dr. Iafolla is currently working on publications focusing on loan sharking and on anti-money laundering initiatives in Canada.
In order to register for the talk, please use the following link: https://zoom.us/meeting/register/tJAtc-CgqDkiH9wKHRIkKg1A36M5ZRduVE2-
---
Date: Wednesday, November 25, 2020; 12:30pm-1:30pm
Katrin Roots & Mariful Alam
Surveillance and Policing of Human Trafficking in Canada
Since the ratification of the UN Trafficking Protocol (2002), the Canadian government has dedicated significant attention and funding to combating human trafficking, including establishing a National Coordination Center to Combat Human Trafficking, headed by the RCMP and contributing to the emergence of specialized trafficking units within municipal police services. Despite this influx of government support and emphasis on anti-trafficking efforts, relatively little is known about the ways in which trafficking is policed. Our project examines the policing and surveillance of human trafficking activities focusing on two areas: 1) given the transitory nature of trafficking, the first area explores the multijurisdictionality of anti-trafficking activities, including the extent and type of involvement each police service and/or level of law enforcement has as well as their cooperation and competition (if any) and; 2) the second area explores both proactive and reactive strategies law enforcement employ, including how police 'find' trafficking activities, the types of surveillance operations utilized (undercover police infiltration, reliance of confidential informants), how information and intelligence gathered through these discreet practices are used, and how law enforcement decides whether to move forward with criminal charges.
Katrin Roots is an Assistant Professor in the Department of Sociology and Criminology at the University of Manitoba. She teaches in areas of feminist socio-legal studies; feminist socio-legal theory; human trafficking; women, crime and law; criminology and criminal justice system. Her research is focused on the policing and prosecution of human trafficking in Canada.
Mariful Alam is a senior PhD candidate in the socio-legal studies program at York University. His primary research interest examines the intersections between law, state surveillance and political dissent.
Eventbrite link: https://www.eventbrite.com/e/university-of-winnipeg-department-of-criminal-justice-speaker-series-tickets-123179536309
---
Date: Wednesday, October 28, 2020; 12:30-1:30 pm
Mohammed Nijim
Slow-motion Genocide in Gaza
In 2006 Israel imposed a stringent siege on the Gaza Strip, making a new episode of Palestinian suffering. Recently, the United Nations has warned of the implications of the Israeli siege and emphasized that Gaza could soon be uninhabitable. Using data collected through semi-structured interviews with six Palestinian students from Gaza who are currently studying in the US, this presentation adopts a sociological perspective to demonstrate how Israel is committing a slow-motion genocide in Gaza. I will share with you the findings of my study which indicate that Israel uses direct by more often indirect methods to inflict the utmost destruction upon Gazans as a social group. Other findings include that all Gazans are entrapped in a vicious circle of violence that starts from childhood and continues until it either causes physical or mental destruction or leads them to emigrate. I will also show how the Israeli punitive measures caused the rise of many social problems that led to weaker relations among individuals and declining social vitality.
Mohammed Nijim is a recent graduate of the sociology master's program from the University of Manitoba. He is Palestinian from the Gaza Strip and is currently based in Winnipeg. Besides being a human rights activist, Mohammed is an advocate for Palestinians rights of existence and self-determination. He is currently working on a book titled "Genocide in Gaza: A Sociological Perspective." After graduating, Mohammed started working with the Main Street Project, helping the most vulnerable group in the city of Winnipeg.
Eventbrite link:
https://www.eventbrite.com/e/university-of-winnipeg-department-of-criminal-justice-speaker-series-tickets-123179536309
---
Date: Wednesday, October 7, 2020; 12:30-1:30 pm
Joshua Shaw
A Study of  "Antinomain Bodies" and Spatial Justice
"More-than-human" (Whatmore 2002; Alaimo 2010) forms of legal inquiry tend to—in focussing on matters of law and environment (see e.g., Grear 2017; Philippopoulos-Mihalopoulos 2015)—elide the place of the body, bodies or bodily matter constitutive, in part, of the human. The human body—a complex of matter and representation that is desiring, desired, repulsing, repulsed, consecrating, consecrated, etc.—seems to disappear in the effort to reach beyond that bounded by skin. To assist me in thinking through how the body might be understood within more-than-human law and theory, I have designed three qualitative, empirical research projects for my doctoral dissertation (currently entitled, Secreting Jurisdiction: The Body in "More-than-Human" Law and Theory) that should help me reflect on, revise and generate theoretical observations. Each research project explores the relation of bodily matter to the production of jurisdiction, attending to key themes (e.g., technologies, form and responsibility) that can establish a foundation for future work on the place of the body in jurisprudence and sociolegal theory. One of the research projects is already published in Law, Culture and the Humanities as a peer-reviewed article (Shaw 2020).This presentation will describe these projects as they have progressed, covering substantive themes or observations so far found and/or published on, the process (warts and all!) of designing the dissertation and what I anticipate is to come.
Joshua Shaw (he/him) is a PhD student at Osgoode Hall Law School, York University, in Toronto, Canada. Joshua's doctoral research is supported by the Joseph-Armand Bombardier CGS Doctoral Scholarship 2019-2022. Joshua is appointed as a Visiting Junior Fellow at the Centre for Criminology and Sociolegal Studies at the University of Toronto where he is currently conducting research—separately from his dissertation—with fellow graduate students. He is also a lawyer, having been called to the Bar of Ontario. Prior to studying at Osgoode, Joshua completed his BSc (Hons) and JD at University of Manitoba, Master of Laws at Dalhousie University and articled and worked at the Office of the Information and Privacy Commissioner of Ontario.
Eventbrite link: https://www.eventbrite.com/e/university-of-winnipeg-department-of-criminal-justice-speaker-series-tickets-123179536309
---
2019-2020 Guest Speakers
Date: January 15, 2020
Mr. David Milgaard
'Experiencing and Preventing Wrongful Convictions: the Experience of David Milgaard'
Where: Eckhardt Gramatté Hall, 3rd floor Centennial Hall, UW 6:00 pm - There will be refreshments and an informal reception immediately following the lecture.
Details: Mr. Milgaard will discuss the impacts of wrongful conviction. He will highlight the visible and less visible and/or hidden impacts of being wrongfully convicted (on his family, his friends, himself). Invisible impacts are those that are not apparent to the general public but are significant during trial, while incarcerated, in the 5 years between his release from prison and his official exoneration, and while trying to rebuild his life. He will also discuss what people working in the criminal justice system (lawyers, police officers, correctional workers, probation officers, etc.) should know about wrongful convictions as they embark on their careers.
David Milgaard was born July 7, 1952 in Winnipeg, Manitoba, Canada. He was arrested for non-capital murder at 16 years of age. He was convicted for this crime that took place in the prairie city of Saskatoon, Saskatchewan and sentenced to life imprisonment. David was not guilty in any way of this crime.
His case was sent to the supreme court of Canada who sent it back to Saskatchewan who refused a retrial stating too many years had lapsed. David reached out to Innocence Canada, then Association in Defence of the Wrongly Convicted (AIDWYC), and they arranged for his DNA to be sent to a lab in England. 
Mr. Milgaard appealed his conviction several times but was blocked by bureaucracy. His formal application was completed in 1988 but was not considered until 1991 after Liberal MP Lloyd Axworthy addressed Parliament. In July, 1997, David was exonerated after the DNA results not only cleared his name but the real killer was identified.
David became involved with social justice issues while inside prison and brought grass roots people into prison to speak to prisoners.  He fought prison administrators to do so.
His mother, Joyce Milgaard, never gave up in her fight to prove the truth about her son's innocence and she secured his freedom after he had served more than 22 years of imprisonment.
Joyce Milgaard's book, A Mother's Story:The Fight to Free my son David will be available for purchase as will a collection of David's prose and poems composed while he was incarcerated titled The Rabbit's Paw.
---
Date: November 27, 2019
Dr. Kathleen Buddle
'On Disorder and Despair: Beating in Winnipeg Street Gangs'
Where: room 1L13, 12:30-1:20
Details: Youth violent crime in Winnipeg disproportionately victimizes impoverished communities and poor and raced youth in particular. Tough on crime advocates, employing neoliberal biopolitical logic, often mobilize moral panic around "risk communities," identifying threats who imperil the proper functioning of the market to support policies that would increase suppression efforts and incarceration rates. At the other end of the political spectrum are those who would deny youth any agency, suggesting that structural forces alone produce gangs and violence. They often assert that offending youth should be returned to the community where they are expected to become resilient, to manage their own disorderly lives, and to become properly aligned entrepreneurial citizens. In this paper, I am concerned with the new modes of precarity that are generated when an ailing social body is misdiagnosed as afflicted with "gang violence." This talk seeks to illuminate the ways this logic of "improper circulation" contributes to risk, destabilizing the already precarious positionality of marginal subjects. It discusses how a policy infrastructure informed by the notion of circulatory disorder creates an invisible child-welfare-to-prison pathway.
Dr. Buddle is an Associate Professor of Anthropology specializing in Applied, Media and Criminal Anthropologies at the University of Manitoba. Her research addresses Indigenous media activism in Canada; cultural performance and politics in the production of urban Indigenous localities; multi-generational Indigenous and Newcomer street gangs, the cultural production of prairie lawlessness; the disciplining of the bodies of criminal others; and the authorizing of new social categories by Indigenous women's organizations as they struggle to shift public debates about Indigenous families onto more productive terrain. She sits on numerous Boards for Community Based Organizations in Winnipeg wherein she provides research-informed, practice-based service.
---
Date: October 23, 2019
Shannon Russell, LLM 
Image-Based Sexual Abuse: Extending Culpability to the "Cyber-Mob".
Where: room 1L13, 12:30-1:20 pm
Details: In recent years, significant attention has been played to the role of technology and the Internet in facilitating sexual violence and harassment, including "image-based sexual abuse" or "revenge porn". In response, a number of jurisdictions have introduced laws to address these harmful behaviours. For example, in Canada, the non-consensual distribution of intimate images has been a criminal offence since 2015. This captures the actions of those who distribute or otherwise share a person's intimate images without consent but not those who look at such images without consent (the "cyber-mob").  I argue that looking at a person's intimate images, knowing that they did not consent to their images being available for viewing, contributes towards a broader societal harm. Intentionally accessing a person's image without their consent draws upon a culture that legitimizes non-consensual sexual practices, whilst simultaneously helping to reinforce and sustain such practices. As such, I propose the introduction of two new offences into the Criminal Code of Canada, namely the non-consensual access and the non-consensual possession of intimate images.
Shannon Russell (she/her) is a contract academic staff member within the Department of Criminal Justice at the University of Winnipeg. She obtained an MSc Criminology and Criminal Justice from the University of Oxford and an LLB Law degree from the University of Edinburgh. Shannon is also in the final stages of a research-based LLM Law at the University of British Columbia, which was funded by the Law Foundation of British Columbia and the Leverhulme Trust. Shannon is interested in how the law upholds structures of power and oppression. Her research interests lie primarily in criminal law, refugee law and family law, relying on feminist, queer and intersectional perspectives.
---
Date: Oct 7, 2019
Yusuf Faqiri
The Tragic Story of Soleiman Faqiri
Where: room 1L13, 12:30-1:20 pm
Details: Soleiman Faqiri lost his life at the hands of prison guards in an Ontario correctional facility in Lindsay, ON in 2016. His case has drawn significant attention from media and advocates for Human Rights, Prisoner Rights, and the rights of people suffering from mental illness.
Yusuf Faqiri will speak about his brother Soleiman's case, and his family's campaign to fight for justice for all who have lost their lives in Canada's prisons and jails (justiceforsoli.com), on Monday, October 7 at 12:30 pm in Room 1L13 (Lockhart Hall).
For those interested in hearing from other families who have lost loved ones to police and prisons, Yusuf will also be speaking on a panel on Sunday, October 6, 6:30 -- 8:30 pm at the Magnus Eliason Recreation Center (431 Langside St) alongside Chantell Quill, Louise Moose, Justin Pranteau, and Erica Thompson.
For more information, contact b.dobchuk-land@uwinnipeg.ca 
These events are sponsored by Bar None, the Canada Research Chair in Indigenous People, History, and Archives; The Justice Research Institute (JRI), and the Center for Access to Information and Justice (CAIJ).
---
Date: September 25th, 2019
Dr. Bailey Gerrits
'More police and prisons:' Explaining how police influence domestic violence news patterns in Canada.
Where: room 1L13, 12:30-1:20 pm
Details: Domestic violence is a pressing social issue in Canada. How the news media covers this violence has the potential to generate social responsibility or reinforce misconceptions about its causes, prevalence, and solutions. Little research documents more recent patterns in Canadian news and few, if any, explain the factors influencing the prevalence and persistence of Canadian domestic violence news patterns. Drawing on an extensive content and discourse analysis of recent Canadian newspaper attention to domestic violence and interviews and observations with keys news workers and their sources in four cities in Ontario, I argue that the news continues to individualize responsibility and racialize the violence. What is more, the police play a significant role in shaping the news. From contributing to carceral framing to actively and effectively silencing stories, police communication is a core component of the fifth estate's work. This raises questions the independence of the news and its ability to hold police accountable.
Bailey Gerrits holds a Banting Postdoctoral Fellowship at the University of Winnipeg in the Department of Criminal Justice. Dr. Gerrits earned her PhD in Political Studies from Queen's University in 2019, which was funded through the Pierre Elliott Trudeau Foundation, SSHRC, and the International Council of Canadian Studies, among others. Her work examines how police exercise discursive governance through their engagement with traditional news media and digital technologies and explores the ways in which political economic and policy factors shape police political communication. She has published in several peer-reviewed journals, including Feminist Media Studies, Atlantic: Critical Studies in Gender, Culture, & Social Justice, and International Journal of Communication, and co-edited a volume for the Centre for International and Defence Policy at Queen's University. Dr. Gerrits is also passionate about ending gendered violence and has collaborated with the Sexual Assault Centre Kingston and Kingston Police to work towards that end.
---
2018-19 Guest Speakers
Date: April 5, 2019
Where: room 2M70
CJ Day Capped Off By Dr. Ivan Zinger, Correctional Investigator of Canada
It was standing room only with a crowd of 60 attending the keynote lecture for CJ Day. The department was honoured to have Dr. Ivan Zinger, the Correctional Investigator of Canada deliver a talk titled "Issues in Federal Corrections: An Ombudsman's Perspective."
The Office of the Correctional Investigator provides independent oversight on Federal Corrections in Canada, serving an important function to ensure that incarcerated individuals are treated fairly and humanely. Dr. Zinger joined the office in 2004, and since 2017 has been the Correctional Investigator of Canada.
In his talk, Dr. Zinger overviewed the role of his office and highlighted issues in corrections ranging from mental health care to Indigenous corrections, and fielded robust questions from the audience.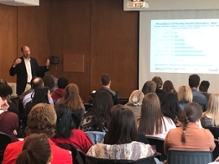 Earlier in the day, the Honour's students presented their theses. The students presenting and their thesis titles were:
Devan Reid The Intersection of Panic and Violence: An Analysis of Canadian Firearm Violence and Media Constructions
Dana Hickson Assessing the Impact of the Protections of Communities
Julianna Petrasko Community Alternatives to the Police: Considerations and Critiques
Crystal Gumieny On the Streets: An Evaluation of Manitoba Child Welfare Policy and Practice and Youth Homelessness
Breanna Belisle The Ideal Victim: Sentencing Those Under the Multiple Murders Act (2011)
Carlyle Foja The Reasonable Hypothetical Offender as a Mimetic Fiction: Recovering Aristotle for Mandatory Minimum Sentencing in Modern Canada
Joyce Jugo Transformative Justice: Representing Criminal Justice in Canadian Theatre
---
 Date: March 13, 2019
Ann Hansen
"Taking the Rap: Women Doing Time for Society's Crimes"
Where: Room 2M70, 12:30-1:20 pm
Details: In 2001, Ann Hansen published a book, "Direct Action: Memoirs of an Urban Guerrilla" which documented the years leading up to and including the Direct Action campaign of the early 1980's in Canada. She has just published a second book, documenting her years in prison and parole from 1984 until the present day. "Taking the Rap: Women Doing Time for Society's Crimes" is a series of short stories about prison life based on Ann's time in the Prison for Women from 1984-1991 and then more stories from the new federal prison in Ontario, Grand Valley Institution for Women in 2006 and 2012. Ann will speak about these experiences and then discuss the conditions and the role of prisons in Canada.
For more informaton on Ann's book please click here: https://btlbooks.com/book/taking-the-rap
---
Date: January 30, 2019
Katherine Bueti, BA, LLB - President, Manitoba Law Society
"Justice in Manitoba: The Law Society and its Role"
Where: Room 2M73, 12:30-1:20 pm
Details: As the sitting president of the Law Society of Manitoba, Katherine Bueti will discuss the Law Society and its role in the Criminal Justice system and she will discuss the unique role a defence counsel plays. Katherine will also discuss two topics important to criminal justice in Manitoba: First, she will explore her experience with rates of remand in Manitoba, its occurrence and reasons for the exceptionally high rates, as well as how to re-think the role of remand in Manitoba. Second, she will discuss the issue of impaired driving and its decrease across Canada and if this is associated with changes in police powers and provincial legislative changes.
Katherine Bueti was called to the Manitoba Bar in 2000 and began her legal career with Gindin Wolson Simmonds as a student, moving on to becoming a senior associate. Leaving in 2009, she was the Founding Senior Partner of Bueti Wasyliw Wiebe, which was at one time of the largest defence firms in Western Canada. Her practice is criminal defence where she has appeared in all levels of court in Manitoba as well as many northern communities, western and southern Ontario. She has experience in administrative and civil litigation as well as immigration and refugee protection and immigration appeals. She has presented on issues ranging from false confessions to plea bargaining, and has worked at the Legal Help Centre as well as holding numerous positions with the Law Society before becoming its president in 2018.
---
Date: November 9, 2018
Dr. Joshua Page - University of Minnesota
"Preying on the Poor: Tough on Crime as Revenue Racket"
Where: Room 2M73, 12:30-1:20 pm
Details: In March 2015, Americans learned from the U.S. Department of Justice (DOJ) that the city of Ferguson, Missouri had been operating a "predatory system of government." Police officers were acting as street-level enforcers for a program –promoted by city officials – in which fines and fees were used to extract resources from poor communities of color and deliver them to municipal coffers. What the DOJ discovered in Ferguson should not be seen as an anomaly, either in relation to U.S. history or American governance. Dr. Page offers a political analysis of the origins, operations, and consequences of revenue-centered criminal justice practices that have grown in the U.S. since the 1990s. Under this policy regime, local governments and market firms draw revenue streams from fine-centered policing, court fees, bail systems, prison charges, civil asset forfeiture, and much more. These practices have a long pre-history in earlier uses of predatory governance to advance American state and nation building, and manage race, class, and gender inequalities. 
Joshua Page is an associate professor of sociology and law at the University of Minnesota. He is the author of The Toughest Beat: Politics, Punishment, and the Prison Officers' Union in California (Oxford, 2011) and, with Phil Goodman and Michelle Phelps, Breaking the Pendulum: The Long Struggle Over Criminal Justice (Oxford, 2017). Email: Joshua Page page@umn.edu
---
Date: October 17, 2018
Dr. Holly Pelvin - Univeristy of Alberta
"How the Hell is Anybody Going to Help Me": The Disruption of Arrest and Sudden Imprisonment
Where: Room 3D04, 12:30-1:20 pm
Details: Drawing on in-depth interviews with 120 remand prisoners in maximum-security prisons, this talk examines the extra-legal consequences of arrest and sudden imprisonment.
Dr. Pelvin argues that the effects of arrest and sudden imprisonment are a punitive disruption on legally innocent people. Her findings suggest that the extra-legal consequences of arrest are influenced by the situational features of the arrest and the characteristics of a person's life.
Holly Pelvin is a SSHRC Postdoctoral Fellow in the Department of Sociology at the University of Alberta. Holly completed her Ph.D. at the Centre for Criminology and Sociolegal Studies at the University of Toronto, where she examined the lived experience and consequences of remand imprisonment, based on field observations and in-depth interviews she conducted with 120 remand prisoners and 40 correctional staff at four maximum-security provincial prisons in Ontario. Dr. Pelvin's current research seeks to explore the issues of remand custody and barriers to pre-trial release for Indigenous people in Alberta; investigating the links between the 'helping' and 'harming' arms of the state, and in particular, the legacies and continued practices of colonization.
---
2017-18 Guest Speakers
Date: February 14, 2018
Les Sabiston - PhD Candidate, Socio-Cultural Anthropology, Columbia University
"Fetal Alcohol Spectrum Disorder in the Justice System"
Where: Room 2M70, 12:30 - 1:20 pm
Details: This talk will present some preliminary insights of an ongoing ethnographic research project that explores how Canadian society is coping with, responding, and adapting to growing medical-scientific understandings of Fetal Alcohol Spectrum Disorder (FASD), with particular focus on how the justice system is realizing that this neurodevelopmental disorder may have impacts on how we understand criminal behaviours and subsequent determinations of guilt, culpability, and punishment for individuals with FASD. Particular focus will be given to the institutional and social contexts of Winnipeg, which is a major centre for generating research and developing policy and public discourse on FASD. Given the long and troubled history of colonial relationships between Indigenous and settler peoples on this land, made evident through many public inquests, inquiries, and reports on the systemic inequalities faced by Indigenous peoples in both the health and justice systems, this project takes a cautionary approach towards the ways that "FASD" is becoming a discourse that is sometimes made to fit into pre-existing strategies for understanding, explaining, and addressing these systemic inequalities.
Les Sabiston is a PhD candidate in socio-cultural anthropology at Columbia University in New York City. He is currently in the final stages of his fieldwork research in Winnipeg, which is also his homeland.
---
Date: January 17, 2018
Matthew Fast, Outreach Program Manager at Newcomers Employment and Education Development Services (NEEDS) Inc.
"Finding Their Way Again: The Experiences of Gang-Affected Refugee Youth in Winnipeg."
Where: Room 2M70, 12:30-1:20 pm
Details: Ongoing and protracted conflicts around the world have led to annual increases in the number of people living as refugees, a situation only worsened by anti-immigration policies across the West. Increasingly, Winnipeg, Manitoba, is home to many of these refugees. Refugees face multiple challenges integrating into their new environments, but these challenges can be particularly difficult for youth. When positive support mechanisms are insufficient and if basic human needs are not met, young refugees are at risk for involvement in criminal and gang activity. Matt Fast will discuss his qualitative research in which he explored the perceptions, challenges and experiences of war-affected refugee youth who became gang involved after settling in Winnipeg. Fast argues that in order to assist young refugees in their successful transition into a foreign culture and society, it is essential to understand how their perceptions and experiences inform their identity and behaviour. Such an understanding must inform policy and future approaches by government and community-based organizations to assist refugees in their transition.
Matt Fast has worked locally and internationally on behalf of war-affected families since 2004. Matt graduated with his Master's degree in Peace and Conflict Studies in 2013. Matt is currently the Outreach Program Manager at Newcomers Employment and Education Development Services (NEEDS) Inc. and is an executive committee member of the Gang Action Interagency Network.
---
Date: November 22, 2017
Allison Fenske, LLM Public Interest Law Centre
Criminal Law and the Public Interest
Where: Room 3C14, 12:30-1:20 pm
Details: Allison Fenske will be speaking about the many ways lawyers can engage with the criminal justice system, outside of the day-to-day trenches of a criminal law practice. She will be offering some insight into opportunities for both systemic law reform, including constitutional issues around sentencing and prisoner rights, as well as individual advocacy, including the representation of victims of crime.
Growing up in Northern Manitoba, Allison Fenske learned that your community is what you make of it. Today, she is a lawyer with the Public Interest Law Centre, where she strives to use the law in ways to level the playing field and create equality of opportunities for people living in vulnerable or marginalized communities. In addition to a busy legal practice, she also teaches a course on Women and the Law at the University of Winnipeg.
---
Date: October 25, 2017
Dr. Shauna Labman, Assistant Professor, Faculty of Law, University of Manitoba
The Export Experiment: Globalizing Private Sponsorship
Where: Room 2M70, 12:30-1:20 pm
Details: After over a decade of pilot programs, shifting numbers, narrowed criteria, submission caps and the introduction of a new blended sponsorship model, the change in federal Canadian government in 2015 came with a strong promise of resettlement, both governmental and private. Filipo Grandi, UN High Commissioner for Refugees declared that "Canada has taken the mantle of humanitarian leadership in the world" as talk grew of private sponsorship as a response to the asylum crisis in Europe. In September 2016, in partnership with the UNHCR, and the Open Society Foundations, Canada announced a joint initiative aimed at increasing the private sponsorship of refugees around the world. Whereas in the past the Canadian government turned to private sponsorship as evidence as its own humanitarianism at home, the new government embraced not just the numbers but the resettlement model itself on a global stage.  But private sponsorship sits in the particular context of Canadian history and geography nor has it been without challenges. This talk anchors its concerns in these challenges and the relationship between resettlement and asylum. Canada embraced resettlement because geography meant it was not a country of first asylum. New state interest results conversely from the reality of an influx of asylum seekers. Concerns with the privatization of state responsibility and the power of selection that resettlement offers over uncontrolled asylum raises questions over who will benefit from additional sponsorship places and who will face increased obstacles to access.
Dr. Shauna Labman is an Assistant Professor in the Faculty of Law at the University of Manitoba. She writes and speaks extensively on refugee law, resettlement and private sponsorship. Her research focuses on the relationship between law and voluntary action in refugee protection. Professor Labman co-founded the Migration Law Research Cluster housed at the University of Manitoba and previously worked for the United Nations High Commissioner for the Refuges in New Delhi, India. In 2016 she was named one of CBC Manitoba's Future 40. Current Projects and collaborations focus on building relationships between indigenous and newcomer groups, refugee parent perspectives on Canadian education and the secondary migration of resettled refugees.
---
Date: October 5, 2017
Dr. Prashan Ranasinghe, Associate Professor, Criminology, Universit of Ottawa
Helter-Shelter: Security, Legality and an Ethic of Care in an Emergency Shelter
Details: Dr. Ranasingh will discuss his new book which examines the travels and travails of an ethic of care as it is thought about and practised in an emergency shelter. He will describe how, despite the laudable and noble task of providing care, various factors, from the significant to the humdrum, work to make the deployment of care complicated. 
Prashan Ranasinghe is Associate Professor in the Department of Criminology, University of Ottawa. His research endeavours are in the sociology of law and his work has examined the regulation of public space among others. His most recent work is Helter-Shelter: Security, Legality and an Ethic of Care in an Emergency Shelter (2017, University of Toronto Press) and he is currently exploring one aspect of the constitution of homelessness that is related to time and 'nothingness'.
---
Date: September 27, 2017
Seminar on Graduate School Applications and Funding
Where: Room 2M70, 12:30-1:20 pm
Details: This professional development seminar will provide an opportunity for students in the 3rd and 4th years of undergraduate study to think about the transition from undergraduate studies into the professional world of graduate school. Specifically, the seminar will address the topics of graduate school applications and funding possibilities. We will focus on SSHRC in particular. The seminar will include a question and answer period involving current and former graduate students. Deanna England from Graduate Studies will present on the topic. Undergraduate students who are considering applying to graduate school are encouraged to bring questions and to participate in the discussion.
---
2016-17 Guest Speakers
Date: March 8, 2017
Dr. Russell Smandych, University of Manitoba
"Too Bad, So Sad": Observations on Some of the Effects of Twenty Years of Youth Justice Reform in Canada, 1995-2015
Where: Room 2M70, 12:30 - 1:20 pm
Details: While in 1995 significant changes were made to the Young Offenders Act (YOA) to address mounting criticisms, by 2003 the legislation was repealed and replaced with the Youth Criminal Justice Act (YCJA). After thirteen years in operation, the YCJA has also undergone significant amendments aimed at fixing some of its perceived weaknesses. However, the question remains of whether long-recognized problems with administering youth justice in Canada are now being addressed more effectively with the enactment and amendment of the YCJA and corresponding changes in provincial and territorial youth justice policy and practice that have been introduced over the past two decades. The author argues that while significant progress has been made on some fronts – including the substantial reduction in the use of youth custody sentences – other areas of youth justice administration are still sadly in need of repair in Manitoba and elsewhere across Canada.
Russell Smandych is a professor of sociology and criminology at the University of Manitoba, where he teaches and does research in the fields of Canadian and comparative youth justice, global criminology, and British colonial legal history. His recent publications in the field of youth justice include: "From 'Misguided Children' to 'Criminal Youth': Exploring Historical and Contemporary Trends in Canadian Youth Justice" (in J. Winterdyk and R. Smandych, eds., Youth at Risk and Youth Justice: A Canadian Overview. 2nd Edition. Toronto: Oxford University Press, 2016); and "Youth Justice in Manitoba: Developments and Issues under the YCJA" [co-authored with M. Dyck, C. La Berge, and J. Koffman] (in M. Alain, S. Reid and R. Corrado, eds., Implementing and Working with the Youth Criminal Justice Act across Canada. Toronto: University of Toronto Press, 2016). 
---
Date: January 18, 2017
Dr. Denis Bracken, University of Manitoba
"Probation Practice with Indigenous and Ethnic Minorities in Ireland"
Where: Room 2M70, 12:30 - 1:20 pm
Details: Criminology has long recognized the issue of culture and ethnic identity as a potential source of crime and conflict between majority and minority populations.  This presentation will discuss the findings of a research project with the Irish Probation Service examining practice issues with members of the Travelling Community and recent immigrants and asylum seekers in Ireland.
Denis Bracken is a Professor of Social Work at the University of Manitoba.  He holds a BA in Psychology from the College of the Holy Cross in Worcester, Massachusetts, an MA in Criminology from the University of Toronto, and a PhD in Sociology from the London School of Economics & Political Science.  He has taught social work at the University of Manitoba since 1979.  Professor Bracken has held visiting posts at DeMontfort University in Leicester, the Glasgow School of Social Work, Trinity College Dublin and University College Dublin.  He is currently Associate Dean of the Faculty of Social Work responsible for undergraduate and distance education.  Previously he was the Director of the University's Inner City Social Work program from 1987 to 1993, and more recently was the Rector of St. Paul's College from 2007 to 2012.  In 2011 he was appointed to a 3 person commission to examine overcrowding in Manitoba provincial correctional facilities.
---
Date: October 26, 2016
Dr. Christopher Schneider, Brandon University
"Policing and Social Media: Social Control in an Era of New Media"
Where: Room 2M70, 12:30 - 1:20 pm
Details: Dr. Schneider will discuss his new book Policing and Social Media. This book investigates various public aspects of the management, use, and control of social media by police agencies in Canada. Dr. Schneider argues that police use of social media has altered institutional public police practices in a manner that is consistent with the logic of social media platforms. Policing is changing to include new ways of conditioning the public, cultivating self-promotion, and expanding social control.
Christopher J. Schneider is Associate Professor of Sociology at Brandon University. His research investigates the role of media and information technology and related developments in social control. He has authored/edited four books and has published numerous articles and chapters. His most recent co-edited book is The Public Sociology Debate: Ethics and Engagement (UBC Press, 2014). Dr. Schneider has received award recognition for his research, teaching, and service contributions. In 2013, he was the recipient of a Distinguished Academics Award, awarded by the Confederation of University Faculty Associations of British Columbia. His research and commentary have been featured in hundreds of news reports across North America, including the New York Times.
Check out the story in the Uniter.
---
Date: September 28, 2016
Dr. Corinne Mason, Brandon University
"Sex-Selective Abortions and Reproductive Justice: Race, Gender, and Surveillance"
Where: Room 2M70, 12:30 - 1:20 pm
Details: In this presentation, Dr. Mason will work at the intersections of reproductive justice, Canadian critical race feminism, and surveillance studies to demonstrate the ways in which mediated discourses around sex-selective abortion have stigmatized racialized women's access to reproductive health services. Centering an analysis of the CBC's undercover documentary Unnatural Selection, Dr. Mason will attend to the conceptualization of "racializing surveillance" as both a means to uncover the 'problem' of sex-selective abortion and as a method to address this issue in Canada.
Corinne L. Mason is an Assistant Professor in Gender and Women's Studies and Sociology at Brandon University. She conducts transnational feminist analyses of development discourses and popular news media, focusing specifically on representations of LGBTIQ rights, violence against women, reproductive justice, and foreign aid. Her work has been published in Feminist Formations, International Feminist Journal of Politics, Feminist Media, Feminist Teacher, Atlantis: Critical Studies in Gender, Culture & Social Justice, Critical Studies in Media Communication, Surveillance & Society, and Canadian Journal of Communication. She is the author of Manufacturing Urgency: Violence Against Women and the Development Industry (University of Regina Press, 2017) and the editor of the forthcoming collection Queer Development Studies: A Reader (Routledge).
Check out the story in the Uniter.
---
Date: September 21st, 2016
Seminar on Graduate School Applications and Funding
Where: Room 3D01, 12:30-1:20 pm
Details: This professional development seminar will provide an opportunity for students in the 3rd and 4th years of undergraduate study to think about the transition from undergraduate studies into the professional world of graduate school. Specifically, the seminar will address the topics of graduate school applications and funding possibilities. We will focus on SSHRC in particular. The seminar will include a question and answer period involving current and former graduate students. Deanna England from Graduate Studies will present on the topic. Undergraduate students who are considering applying to graduate school are encouraged to bring questions and to participate in the discussion.
---