Michael Weinrath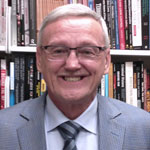 Title: Professor
Phone: 204.786.9100
Office: 3C67
Building: Centennial Hall
Email: m.weinrath@uwinnipeg.ca
Degrees:

MA Washington State University
PhD University of Alberta
Biography:

Prior to coming to the University of Winnipeg Professor Weinrath worked in provincial corrections in Alberta. From time to time you will hear him comment on crime issues in the media.
Courses:
Criminal Justice Policy, Program Evaluation, Institutional Corrections, Community Corrections, Research Methods, and Crime Victims.
Research Interests:

Prison Environment, Problem-Solving Courts, Procedural Justice, Therapeutic Communities, Pre-Trial Detention, Inmate Classification.
Publications:

Recent Publications
2018       Retention and Classification in Drug Treatment Court. w/K. Gorkoff, J. Watts, C. Smee, Z. Allard, M. Bellan, S. Lumsden, & M. Cattini. Annual Interdisciplinary Review of Criminal Justice,
2018       Accessing Drug Treatment Courts Do Age, Race or Gender Matter?" w/K. Gorkoff, J. Watts, C. Smee, Z. Allard, M. Bellan, S. Lumsden, & M. Cattini. Australia/New Zealand Journal of Criminology
2017    Manitoba's mental health court: A consumer perspective. w/J. Watts. Manitoba Law Journal.
2016    Behind the walls: Inmates and Correctional Officers on the state of Canadian prisons. UBC Press, Law & Society Series.
2016    Mentorship: A missing piece to manage juvenile intensive supervision programs and youth gangs? w/G. Donatelli & Melanie Murchison Canadian Journal of Criminology & Criminal Justice.