Kelly Gorkoff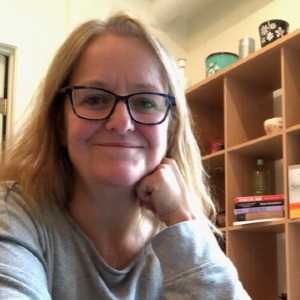 Title: Associate Professor
Office: 3C55
Building: Centennial Hall
Phone: 204.786.9104
Email: k.gorkoff@uwinnipeg.ca
Degrees:

MA University of Manitoba
PhD Carleton Univsersity
Biography:
Dr. Kelly Gorkoff received her PhD from the University of Carleton Sociology and Anthropology Department where she wrote her dissertation on the corporatization of post secondary education in Canada. Prior to joining the UWinnipeg Criminal Justice Department in 2006, she was a Research Associate at RESOLVE, a research centre dedicated to studying violence and violence against women. She has been a part of numerous national research teams over the years and has had research funded by Status of Women Canada, Department of Justice, Manitoba Law Foundation, SSHRC, and CIHR.
Affiliations:

Steering committee member: RESOLVE tri-provincial network on violence research
http://www.umanitoba.ca/centres/resolve/index.html
Centre for Interdisciplinary Justice Studies https://www.cijs.ca/ & co-editor of The Annual Review of Interdisciplinary Justice Research https://www.cijs.ca/volume-9
Advisory member - the Center for Access to Information and Justice (CAIJ) (https://www.uwinnipeg.ca/crics/)
Social Theory Research Cluster, Canadian Sociological Association: http://www.csa-scs.ca/files/webapps/csapress/socialtheory/
Courses:

CJ-1002 Intro Criminal Jusice
CJ-2100 Foundations of Criminal Jusitce
CJ-3205 Ethics in Criminal Justice
CJ-4122 Capstone in Criminal Justice
CJ-4300 Criminal Justice Critical Theory
GCJ-7101 Conceptualizing Criminal Justice
GCJ-7300 Critical Criminal Justice Theory
In addition to course-related teaching Dr. Gorkoff also supervises Criminal Justice Honours and M.A. student theses.
Research Interests:

Dr. Gorkoff's scholarly interests include social theory particularly critical political economy and feminist theory. She is interested in regulatory practices, including sex work, and the regulation & governance of behaviour. Research interests also include public inquiries, addictions, specialized courts, and community mobilization.
Publications:

Selected Recent Publications:
Gorkoff, K (2020) Introduction to Criminal Justice. Toronto, ON. Pearson Press.
Gorkoff, K., A. Miller, C. Shepherd, and C.Bolton (2019) Youth Involved in the Sexual Exploitation Trade. In Winterdyk, j., K. Gorkoff, D. Antonowicz, & S. Smandych  (eds) Youth Justice: A Canadian Overview 3rd edition. Toronto ON. Oxford Press.
Weinrath, M., K. Gorkoff, J. Watts, C. Smee, Z. Allard, M. Bellan, S. Lumsden & M. Cattini (2019) A Quantitative Study of a Drug Treatment Court in a Western Canadian City: Post-Sentencing and Reoffence Outcomes. Canadian Journal of Criminology and Criminal Justice. Vol 61. No. 4. Pp.45-68. https://utpjournals.press/doi/epub/10.3138/cjccj.2018-0035
Weinrath, M., K. Gorkoff, J. Watts, C. Smee, Z. Allard, M. Bellan, S. Lumsden & M. Cattini (2018) Accessing Drug Treatment Courts: Do Age, Race, or Gender Matter? Australia/New Zealand Journal of Criminology. Vol 51(4) pp. 619-637.  https://journals.sagepub.com/doi/abs/10.1177/0004865818757586?journalCode=anja
Gorkoff, K. (2018) Corporatizing Therapeutic Justice: The case of the Winnipeg Drug Treatment Court. In Brownlee, J., C. Hurl, & K. Walby (eds) Corporatizing Canada: Making Business Out Of Public Service. Ottawa, ON. Between the Lines.
Gorkoff, K. & R. Jochelson (eds) (2014) Thinking about Justice: A Book of Readings. Winnipeg, MB. Fernwood Press.
Gorkoff, K. & J. Runner (eds) (2002) Being Heard: the experiences of young women in prostitution. Halifax, NS. Fernwood Press.