Sylvie Albert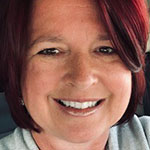 Title: Professor
Email: s.albert@uwinnipeg.ca
Biography:

Dr. Sylvie Albert is a professor of strategy and leadership, the past Dean of the Faculty of Business and Economics at the University of Winnipeg, and the past Associate Dean of the Faculty of Management at Laurentian University. She spent 12 years in municipal and provincial government posts, 10 years in management consulting, and 15 years in academia. 
Sylvie was the lead jurist for the Intelligent Community Forum in New York for more than 10 years; she contributes yearly to the Global Forum on Digitalization in Europe and has served as a Senior Advisor to Infrastructure Canada's Smart Cities Challenge. Dr. Albert is a recognized activist and researcher on digital urban innovation. Her activism on boards and think tanks at the local, regional, national, and international levels have often helped to inform her research on smart/intelligent/sustainable cities - apart from several articles she is writing her fourth book on the topic.
She was the owner of a Management Consulting Firm, Planned Approach Inc., overseeing economic development and intelligent community projects across Canada, and spent several years leading economic development corporations in northern Ontario.
Dr. Albert above all is most proud of her son and enjoys music, movies, and quiet time with her family which includes an Old English Sheepdog.
Teaching Areas:

Intelligent Communities, Smart Cities, Sustainable Cities
Strategy development and implementation
Business Education and Post Secondary Management
Online Learning and Reflective Pedagogy
Research Interests:

Strategy
Entrepreneurship
Innovation and Digitalization