Peter Moreira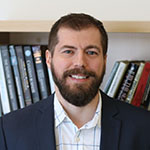 Title: Instructor
Office: 1BC10
Building: Buhler
Email: p.moreira@uwinnipeg.ca
Biography:

Peter Moreira, MBA, CPA,CGA
Peter Moreira has over 15 years of professional experience in financial management, economic development, business consulting, planning, and teaching. He is a Chartered Professional Accountant (Legacy CGA) (CPA, CGA), holds a Master in Business Administration (MBA) graduate degree, and a Bachelor of Commerce (Hons) undergraduate degree. Managing clients and developing effective relationships has been a big part of his career that started during his time with RBC Royal Bank, continued during his role in economic development with the Province of Manitoba Government, to his current business consulting practice, Peter Moreira, CPA. His ability to provide advice and planning to businesses and organizations in a wide variety of industries comes from this previous experience, along with the experience gained in a previous role working in a CFO capacity with the Province of Manitoba Government as an Assistant Deputy Minister. In addition to his consulting practice, Peter shares his knowledge and experience as a regular Session Leader in the Professional Education Program with the CPA Western School of Business.
In addition to helping clients realize success, Peter is actively involved in the Portuguese Community of Winnipeg, serving as a Treasurer in one of their non-profit, cultural organizations. He has also been a musician for 30 years and loves sharing his craft with his family and friends.
Peter Moreira is the Course Co-ordinator for Introduction to Business II, is the Program Chair of the Master in Management program in the Faculty of Business and Economics, and teaches in the following areas of Accounting
Intermediate Financial Reporting

Advanced Financial Reporting

Canadian Taxation