Eva Pip
Biology
---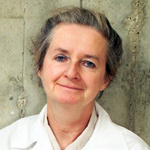 Title: Professor, Retired
Email: e.pip@uwinnipeg.ca

Research Interests:

My research area relates to contaminants in our environment and water as they impact on human health and health of aquatic ecosystems. I have worked on rivers and lakes in every region of our province, as well as in other parts of Canada and the U.S., but during the last few years my research has particularly focused on Lake Winnipeg. I also have interests in poisonous plants that we can find in our gardens and homes.
Research interests: water quality, drinking water and public health, bottled water, algal toxins, heavy metals in aquatic ecosystems, environmental impacts of intensive livestock operations, mining, cottages, pesticides; aquatic macrophytes, molluscs, toxic plants.
Publications:
https://www.researchgate.net/profile/Eva_Pip/publications