Anuraag Shrivastav
Biology
---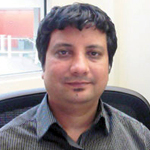 Title: Associate Professor
Office: 2RC051
Building: Richardson College for the Environment and Science Complex
Phone: 204.786.9177
Email: a.shrivastav@uwinnipeg.ca

Research Interests:
Cellular signaling mechanisms are intricately linked to homeostasis through events that control cell proliferation, survival and death. Aberrations in some of these mechanisms are often associated with oncogenic processes, which provide insights into the mechanisms driving development and progression of different cancers. These may also lead to identification of novel biomarkers and potential targets of therapy. Because the evolution of cancer specific therapeutics is intricately linked to our understanding of the unique pathways involved in different cancers, my lab is studying cell-signaling pathways linked to the onset and progression of human cancers.
I am currently accepting applications from prospective graduate students or post-docs.