Andrew Park
Biology
---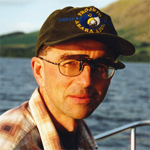 Title: Associate Professor
Office: 4CM57
Building: Centennial Hall Mezzanine
Phone: 204.786.9407
Email: a.park@uwinnipeg.ca

Research Interests:

My research interests are quite eclectic, but are united by a strong belief that sustainable forest management requires us not only to understand the dynamics of forest systems, but to actively manage them.  Over the last nine years I have led research programs on cattle grazing and forest regeneration, the role of local versus regional environments in forest restoration in the Republic of Panama, forest hydrology, and carbon storage.  My current research program is a wide-ranging investigation of the adaptation of forests and forest practices to climate change, involving modelling, research into assisted migration, and investigation of the link between plant functional traits and adaptability.
I welcome expressions of interest from prospective graduate students or post-docs, especially those who are funded through NSERC or another major granting agency.