Brown Bag Book Club with artist GMB Chomichuk: "Drawing Indigenous History."
Fri. Nov. 8 12:30 PM - Fri. Nov. 8 01:30 PM
Sponsored by Gallery 1C03.
Everyone is welcome to attend a discussion with Winnipeg artist, illustrator, and multimedia artist GMB Chomichuk, who will share his experiences collaborating with Indigenous writers and contributing to This Place: 150 Years Retold and lead a more general discussion of the book.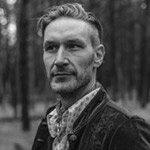 GMB Chomichuk is an award-winning writer and illustrator whose work has appeared in film, television, theatre, books, comics and graphic novels. His most recent work with HighWater Press, Will I See?, was a collaboration with writer David A. Robertson and singer/songwriter Iskwē. He writes and/or illustrates occult suspense stories like Midnight City, science fiction works like Red Earth, or inspirational all-ages adventure stories like Cassie and Tonk. He is the host of Super Pulp Science a podcast about how genre gets made. His newest full length graphic novel Apocrypha: The Legend of Babymetal was featured on The Hollywood Reporter, The Nerdist, and Billboard Magazine.