About the Club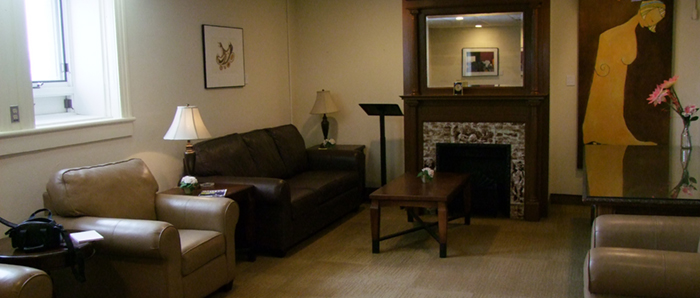 The University of Winnipeg Club, located on the fourth floor of historic Wesley Hall, provides a pleasant and relaxed ambience for lunches, meeting colleagues, or special events. Club members are as diverse as the University community itself, and the privilege of membership is also extended to accommodate anyone who is associated with the University. The Club is perfect for entertaining friends, family and colleagues.
The University of Winnipeg Club offers members a variety of venues for dining and conversation. The Club facilities include a relaxed dining room, a lounge with comfy sofas, a cozy licensed pub, and a private meeting room. Whether you want to relax with colleagues, resolve an issue over lunch, or just sip coffee from a real mug, make the Club a part of your life. Then end the roughest of weeks on a positive note with the collegiality of Friday afternoon beverages, and conversation with people from across the university. 
University of Winnipeg Club Fonds − thanks to Brett Lougheed, University Archivist/Digital Curator, for publishing the fonds description and finding aid for the University Club records. You can find the description and finding aid online at https://main.lib.umanitoba.ca/university-of-winnipeg-club-fonds
The Drache Board Room – is ideal for luncheon meetings, and the Club's art collection offers aesthetic satisfaction.
Dining Room – Located in one of the Wesley Hall "turrets," the Dining Room offers a formal but unpretentious dining atmosphere.
The Pub – Designed by David Hewlett with an 'Olde English' décor, the pub provides a quiet venue for coffee, licensed drinks, or lunch, and is the center of Friday afternoon conviviality.
Lounge – Adjacent to the Dining Room, the Club Lounge features leather sofas and is a perfect place to relax with friends and beverages, or to hold small receptions.
Authors' Display – The Club Book Collection contains 185 books authored by 98 Club Members. Members are encouraged to donate one or more of their books to this impressive collection. Such gifts are put on  permanent public display, are added to our ongoing inventory, and the names of new donors are added to our Authors' wall plaques.
Art Collection – The Club has a small permanent collection of paintings by Murray Boyko, Jonina Cadoreth, Angele Gagnon, Deryk Houston, Kenneth Hamilton and Tony Tascona.  Additional pieces from the university's general collection are also displayed in the Club.
Club Hours of Operation
Beginning January 3, 2023
Monday to Wednesday
11:30 a.m. – 3:00 p.m.
Thursday & Friday
11:30 a.m. – 5:00 p.m. (or later/earlier depending on patronage)
Special Bookings 
Special events outside regular hours, including evenings and weekends, may be booked with the Diversity Foods (the Club operator). There is no rental fee for Members.
to book a room please contact Melanie catering@diversityfoodservices.com or call (204) 786-9070