Dr. Glenn Moulaison
Modern Languages and Literatures
---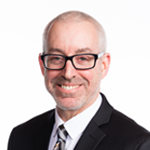 Title: Dean of Arts
Office: 3C18
Building: Centennial Hall
Phone: 204-786-9942
Email: g.moulaison@uwinnipeg.ca

Biography:
Glenn Moulaison completed his Ph.D. in French Literature at the University of Toronto, where he was a Connaught Scholar as well as a Junior Fellow at Massey College. After teaching two years at Saint Francis Xavier University, he joined the Department of Modern Languages at the University of Lethbridge, where he spent eight years before coming to the University of Winnipeg. He was appointed Acting Chair of the Department of Modern Languages and Literatures in 2008, Chair in 2009, and Associate Dean of Arts in 2010.
His research interests are varied and multidisciplinary in approach. He has published works on French poets, like Arthur Rimbaud and Jean Cocteau, on Acadian and French-Canadian literatures, on literary criticism, on linguistic variation. Recently, he answered—he thinks—the long-standing question that bewilders all visitors to Winnipeg: "Why do English-speakers here rhyme Lagimodière with Gauthier?" and presented his findings at an international colloquium.
He is of Acadian/Métis heritage and a member of the Association des Acadiens-Métis Souriquois of Nova Scotia. He is married with two children.