MDP student wins at Cando Youth Summit
Thu. Aug. 18, 2022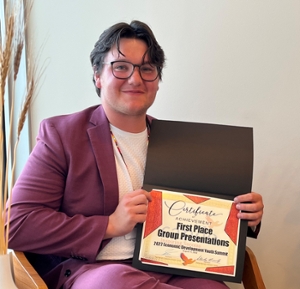 From August 8th to the 11th, 50 First Nations, Métis, Inuit and non-Indigenous youth from across Canada participated in the fifth annual Cando Economic Development Youth Summit in Calgary, Alberta. Daniel Nychuk, an incoming first year MDP student, was selected as a delegate.
Over the 4-day period participants learned about community economic development through various workshops and presentations where they put this knowledge toward a case study presentation on the final day that was presented in front of a panel of judges. The case study was to develop an 18-acre parcel of on reserve land labelled as light industrial to benefit the community in a way that demonstrates a strong understanding of economic development while also staying under a ten-million-dollar budget.
Daniel's team Indgenuity Development Corporation finished in first place.
"I had a great time at the Cando Economic Development Youth Summit and to top it off my team "Indgenuity Development Corporation" finished first place in the annual case competition. I created many lasting relationships within my group as well as with other delegates throughout the week. My group's wide range of education background, and skill-sets helped elevate our group to the next level. I was given the role of Financial Officer which made the most sense as I just completed my commerce degree with a major in accounting and finance. The opportunity to conduct this summit in person made this an even better experience.
As delegates we had the opportunity to work in person together and were provided with the proper resources to succeed. The mentors and presentations were also great resources as they helped our group by adding knowledge and providing all resources for the case competition. It also became easier to get closer to our group as we were around each other for many hours of the day. I also enjoyed the opportunity to tour the Tsuut'ina Nation which was the host nation for the summit. Tsuut'ina Nation is at the forefront of economic development and to see all projects being developed that were talked about throughout the summit in action was a great experience.
Overall, it was a great experience, as I got the opportunity to meet many new people from across Canada and create relationships with delegates, mentors, and presenters throughout the week. I cannot wait to apply my knowledge from the summit to my studies and future employment."
 L-R Kathleen Doxtator, Daniel Nychuk, Samantha Allan, Draco Dunphy and Darian Edwards