Capstone Project: Sunshine House
Thu. Jan. 20, 2022
The Capstone course MDP students take in their final year allows them to consider the nature of the discipline of Indigenous development and its connection to dominant development discourse and practice. Students draw insights from their learning in class and their experiences in the real world to strengthen their relationship between theory and practice. Using the resources and frameworks gained throughout the program, students work collectively to address a fundamental development challenge a local organisation faces through a significant applied project.
During the Fall of 2019, MDP students, Nono Ndlovu and Henok Alemneh, had the opportunity to work with Sunshine House to develop Indigenous language-based programming centered on the needs and priorities of the organisation and its community members. Sunshine House is a community drop-in and resource center in Winnipeg that primarily works with Indigenous peoples, substance users, people of colour, and gender and sexually diverse people.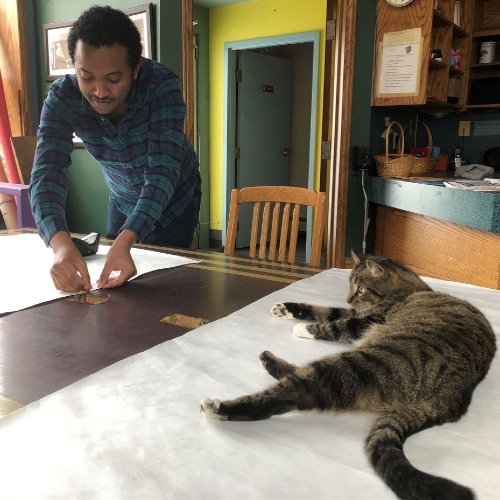 Henok and Nono strove to build respectful relationships with community members, staff, management, and partners through open and regular communications. They did this by going to drop-ins and engaging in community activities and meetings. The project involved a visioning exercise that captured the desires of Sunshine House community members for the future around Indigenous languages. They were based on these critical questions: Where have we been? Where are we now? Where do we want to go? and how will we get there?
The project tried to answer these questions, and the report provided baseline information for Sunshine House to continue developing Indigenous language-based programming in collaboration with various partners.
Two years later in 2021 the organisation secured funding from TELUS to implement the project, after building on the student's work.
Levi Foy, member of Couchiching First Nation and Executive Director of Sunshine House,  had this to say about the project:
"I just wanted to share a fun success story from Sunshine House's involvement with Capstone. The project that Henok and Nono worked on a couple of years ago was finally funded through TELUS! The activities and proposed ideas for programming in the grant were based on the ideas that participants shared with the students. I also used the theory and additional examples they compiled. We are all very excited over here to finally get this project started and it wouldn't have happened without the students. Chi-miigwech to the MDP Program for welcoming this collaboration." 
Henok and Nono expressed that they feel honored to have contributed to Sunshine House's success in acquiring funding to start implementing the Indigenous-language based programming project. They shared that this process taught them about conducting Indigenous research in a non-exploitive manner, i.e., reaching the end goal by respecting Indigenous cultures and representing Indigenous people's voices. They would like to acknowledge Sunshine House management, staff, community members, and the course instructor Tabitha Martens for her support and guidance throughout this project.