MDP students at ICSD 2019
Mon. Sep. 30, 2019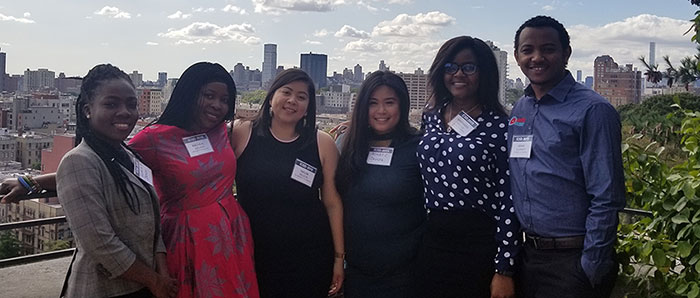 MDP students L-R: Gloria Makafui Dovoh, Racheal Kalaba, Taylor Wilson, Nontokozo Ndlovu and Henok Alemneh
The 7th International Conference on Sustainable Development (ICSD) was held September 24-25th at Columbia University, New York City. It is annual event organized by the Master's in Development Practice Global Association (MDP), the Center for Sustainable Development (CSD), The Earth Institute and the Sustainable Development Solutions Network (SDSN).
The conference theme was Good Practices: Models, Partnerships, & Capacity Building for the SDGs. This year seven UWinnipeg MDP students attended and presented at the ICSD: Taylor Wilson, Gloria Dovoh, Racheal Kalaba, Nontokozo Ndlovu, Ashley Saulog, Henok Alemneh and Erika Vas.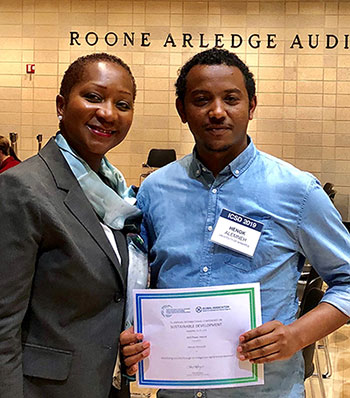 Lucia Rodriguez and Henok Alemneh

Taylor, Ashley, Nontokozo and Racheal presented their collaborative paper: "Tâpwêwin "great and careful consideration": An Indigenous Partnership Research Protocol" and Henok presented his research entitled "Redefining Tourism Through an Indigenous Rights-based Approach." Henok was awarded Best Paper of the double panel session Indigenous Approaches to Sustainable Development moderated by MDP Director Dave Wilsey (Minnesota) and UW Coordinator Tamara Dionne Stout.
The students also presented posters: "Gendered Homelessness in Winnipeg" (Gloria), "Hydroelectric Dam Construction and Heritage Resources Monitoring: A Case Study of the Keeyask Generating Station in Manitoba, Canada" (Henok), "Self Determination - Foundation for Disaster Management in Indigenous Populations" (Racheal) and Erika had two posters: "Community-Driven Tiny Houses: Reframing Indigenous On-Reserve Housing for Sustainable Development" and "The Housing First Model in New Zealand: A Permanent Solution to Sustainable Urban Development."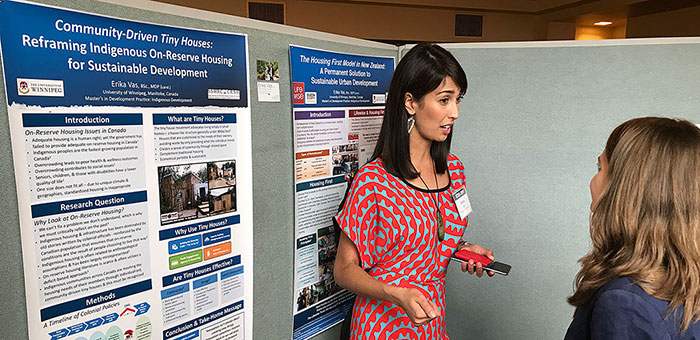 Erika Vas
"The ICSD conference is often at the top of your must attend conference list when you are an MDP student. You would keenly look forward to being in the amazing city of New York and connecting with sustainable development scholars from around the globe with whom you get to share your research. It is even more special and inspiring when you are presented with best paper award." Henok
Congratulations to the UWinnipeg MDP students for their excellent work!