MDP students at 3MT
Fri. Apr. 19, 2019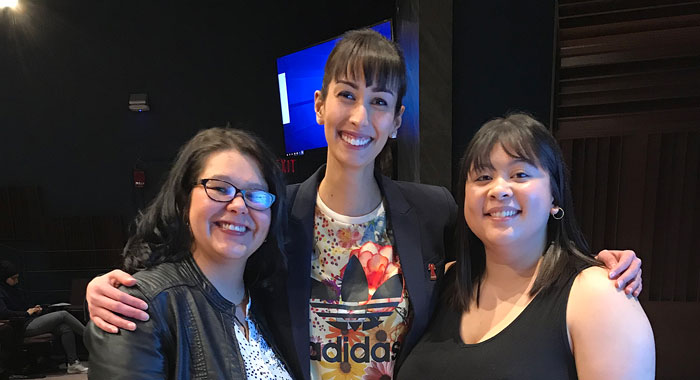 (L-R) Courtney Bear, Erika Vas, and Taylor Wilson
On April 11, three MDP students competed against 12 other graduate students at the University of Winnipeg's 6th Annual 3MT competition. Developed by The University of Queensland, the 3-Minute Thesis (3MT™) is an oral competition where students have three minutes or less to present their research in an accessible and engaging way.
Courtney presented her work on "Sacredness of Water: The Need to Protect." Erika spoke on research on  "Community-Driven Tiny Houses: Reframing On-Reserve Housing in Canada."
Taylor's presentation was entitled "Decolonizing the Food Guide for Indigenous Health and Education: A Critical Review of the 2019 Canadian Food Guide." Her impressive oration captured her The People's Choice award worth $500.00.
"This year's 3MT competition was incredible to say the least. I was excited to have presented among some of the amazing students at the the University of Winnipeg and to hear more about what they are doing during their time here. It was a lot of hard work fitting my research into 3 minutes and it was a great learning curve. I would definitely recommend it to other students. I'm also incredibly thankful to the audience for believing in my project and voting me people's choice. It was an honour!" Taylor Wilson
A list of all the competitors and their research topics can be found here.
Congratulations for your hard work under pressure!