MDP @ Ontario Makers and Mentors Innovation Conference 2017
Fri. Nov. 10, 2017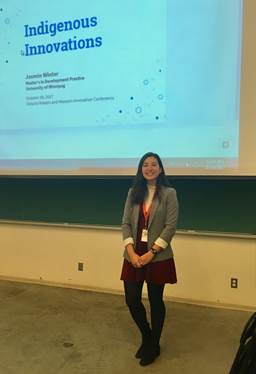 Recent MDP graduate Jasmin Winter was invited to share her research during the Ontario Makers and Mentors Innovation Conference in Ottawa, on the unceded territories of the Algonquin nation.
Very generally speaking, the term "makerspaces" refers to a place where people can go to create by gaining access to skill sharing, mentorship, and tools. This often entails technologies like 3D printers, laser cutters, and electronics equipment, but one of the driving forces of the OMMIC was to engage in more dialogue about what can define a makerspace. Makerspaces are gaining traction in both entrepreneurial and community development settings, including school and libraries that want to promote hands-on learning. The theme of this year's meeting was "Diversity and Innovation."
Jasmin had the opportunity to speak on a panel about inclusion as well as present an hour-long talk going into detail about her research. Her talk covered work she did for her MDP Major Research Project, titled "The Virtually Balancing Act: Digital Tools for Development Practice," which revisited dominant interpretations of the "digital divide" and advocated for self-determining approaches to technological development in Indigenous communities. Jasmin also spoke about her current participation in the Transactive Memory Keepers: Indigenous Public Engagement in Digital and New Media Labs and Exhibitions project, which is supervised by Dr. Julie Nagam and is looking into the potential of creating a mobile open-source digital and new media lab informed by Indigenous methodologies. She likewise got to speak about her domestic MDP field placement that she completed with the Initiative for Indigenous Futures.
All in all the experience was one-of-a-kind, with a unique mix of speakers from backgrounds in engineering, science, education, and community activism, and hands-on activities like robotics programming and virtual reality workshops. Jasmin is very grateful for the opportunity and the connections that she made.