UW MDP students participate at ICSD 2017
Wed. Oct. 18, 2017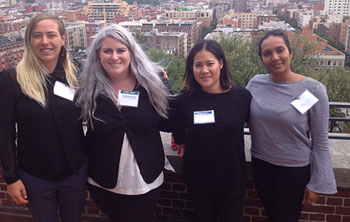 Sandra Wiebe, Cassandra Szabo, Ari Phanlouvong and Amanda Appasamy
The 5th Annual International Conference on Sustainable Development (ICSD) was held on September 18-19th at Columbia University, New York City. It is organized by the Master's in Development Practice Global Association (MDP), the Center for Sustainable Development (CSD), The Earth Institute and the Sustainable Development Solutions Network (SDSN).
This year's theme was The World in 2050: Looking Ahead for Sustainable Development. Presentations aimed at identifying and sharing practical, evidence-based solutions that can support the Sustainable Development Goals (SDGs) at local and national levels.
Three UWinnipeg MDP students attended and presented at the ICSD: Amanda Appasamy, Cassandra Szabo and Ari Phanlouvong.
Amanda's presentation was entitled "Addressing Food Security with Year-round Geothermal Run Greenhouse in Canada" and Cassandra presented on "Approaches to Sustainable Economic Development in Nisichawayasihk Cree Nation." Ari co-presented a poster on "Indigenization of Graduate Studies Programs" with Sandra Wiebe, a former UW MDP student who is now doing her MDP at the University of Arizona.
"It was an excellent opportunity to gather with world leaders in the field and to learn about the multitude of solutions to address the complex challenges of sustainable development across the globe. While the importance of Indigenous Traditional knowledge is slowly being acknowledged, much work is still required on that end to equitably achieve the sustainable development goals." Amanda Appasamy
"Attending the ICSD was an excellent opportunity to showcase the hybridized and innovative solutions that Nisichawayasihk Cree Nation is implementing to combat challenges in relation to economic development. " Cassandra Szabo
Congratulations to the UWinnipeg MDP students for their excellent work!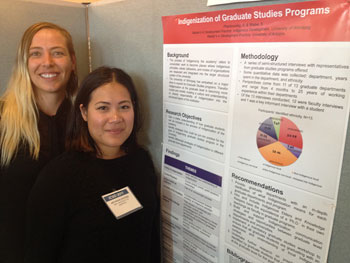 Sandra and Ari in front of their poster