MDP Student at Int'l Summit of Cooperatives
Fri. Oct. 14, 2016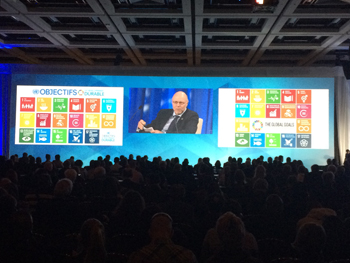 Plenary talk from a group of UN ambassadors relating the SDG's and co-op movement.
Stephen Penner, a 2nd year MDP student, participated at the International Summit of Cooperatives in Quebec City, October 9-14, 2016.  He presented a feasibility paper entitled "Gathering Circles for Indigenous Ecopreneurship among First Nations Communities of Southern Quebec" which includes a toolbox for creating an Indigenous Food Co-op Distributor and explains the community supports that a co-op can offer Indigenous communities across North America. The paper was co-authored by Stephen, Dr. Simon Berge, Business Chair of Co-operative Enterprises at the University of Winnipeg, and Ryan Paul Rice, an Aboriginal Entrepreneur from Kahnawake Territory of the Mohawk Nation.
"It was incredible to be here with Dr. Simon Berge presenting on a sustainable Indigenous Food Co-op model. The reception to the presentation was wonderful and the teachings and learnings that I have experienced from around the globe have been amazing. Being in an atmosphere of development practitioners who work with their communities is an experience in itself." Stephen
The paper can be found here.
Congratulations!
Photo courtesy of Stephen Penner