Chancellor's gift of $250K supports MDP fellowships, Indigenous inclusion
Thu. May. 29, 2014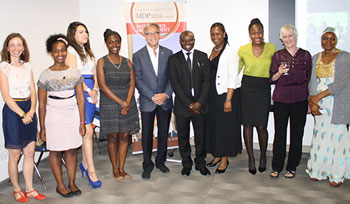 Generous gift from Chancellor Silver, Kim Silver, Western Glove Works supports MDP fellowships and indigenous inclusion initiative
The University of Winnipeg today celebrated a private and a corporate gift totalling $250,000 made by Bob Silver, Chancellor of The University of Winnipeg and President of Western Glove Works (Silver Jeans) and his wife, Kim Silver.  The Silvers' equally generous donations mark the largest gift to the Master's in Development Practice Fellowships ($150,000) and the founding gift in support of UWinnipeg's Indigenous Inclusion Initiative ($100,000).
A reception to honour the Chancellor was held on campus where President and Vice-Chancellor, Dr. Lloyd Axworthy presented him with the University's Community Learning Award.  Brian Daly, President and CEO of The University of Winnipeg Foundation was also in attendance along with Jennifer Rattray, Associate Vice-President, Indigenous, Government and Community Affairs; Dr. Mavis Reimer, Dean of Graduate Studies; Wab Kinew, Director of Indigenous Inclusion; Claire Reid, Director of the Master's in Development Practice: Indigenous Development (MDP), members of the MDP Advisory Circle, Faculty, and MDP students and graduates who gathered to recognize the Chancellor's commitment to development practice and Indigenous inclusion at The University of Winnipeg,
"The University's Community Learning Award recognizes the continued generosity of Chancellor Silver.  He has shown incredible commitment to bridging the education gap and fostering ingenuity in advancing and broadening higher education through his support of the MDP program, Indigenous programs and the Opportunity Fund," said Axworthy. "He has been a great leader of community learning and we're grateful for his commitment."
The MDP is an innovative, rigorous 24-month program, which aims to train aspiring practitioners to understand and manage development challenges in a sustainable way. UWinnipeg is part of a prestigious network of 26 leading universities around the world who offer the MDP, linked together by the Earth Institute at Columbia University. At The University of Winnipeg, the MDP uniquely focuses on Indigenous development, integrating Indigenous knowledge and experience throughout its multi-disciplinary curriculum. Students complete both a Canadian and an international field placement, learning directly from practitioners of Indigenous development.
This portion of the gift recognizes outstanding full-time students enrolled in the MDP program, helping to defray the cost of tuition and enabling them to further their theoretical and practical knowledge in Indigenous Development.
"Chancellor Silver shares our commitment to the personal and professional growth of students interested in the field of sustainable Indigenous development.  His generosity provides increased educational opportunities for students to hone those skills that are critical to successful sustainable development practice," said Claire Reid, Director of the MDP Program. "We are most grateful for his generous support."
Thanks to Silver's second pledge, Wab Kinew, Director of Indigenous Inclusion, is able to continue his work gathering expertise on developing, recruiting and retaining Indigenous talent as well as strategies for working with Indigenous communities.  For example, he has placed specific focus on nurturing Aboriginal entrepreneurship and business training. With his Economics background and strong interest in economic development he has designed a community program called "Young Entrepreneurs", steeped in Aboriginal culture and aimed at youth under the age of 25 interested in learning the fundamentals of running a business.  Kinew also initiated the free-of-charge language program at the University's Wii Chiiwaakanak Learning Centre, which allows children and parents and grandparents to learn, renew, and rebuild the Ojibwe language.
"Mr. Silver has a keen understanding of the unique role UWinnipeg can and is playing in the inner city.  His dedication of time, talent and financial resources has not only enhanced our role in reaching out and removing barriers for Indigenous and other underrepresented youth on campus, but has also made much of this work possible by supporting our Indigenous Inclusion Initiative," said Kinew.
Kinew also works with representatives from several UWinnipeg faculties to create meaningful learning opportunities for inner-city children at the University.  He is a proud member of the Midwen lodge and takes his traditional life seriously. He aims to renew and preserve Anishinaabe culture, values, and worldview at a grassroots level, and provide avenues for that culture to inform and contribute to contemporary urban culture.
Chancellor Silver took a moment at the reception to say a few words, remarking that he is very appreciative of the role UWinnipeg has played in redefining the west end and downtown community as well as the role it continues to play in terms of accessibility.
"UWinnipeg leads the country as an institution that can help change and mold a community.  I am proud to be a part of something so transformative and to support programs that are making a huge impact on our youth locally and abroad," said Silver.
On May 21, 2014 at the University's annual I Heart UWinnipeg Dinner, Chancellor Silver announced an additional gift of $50,000 directed to the Opportunity Fund in honour of Dr. Lloyd Axworthy and his wife Denise Ommanney.
The University of Winnipeg believes in access. The goal of our Opportunity Fund is to ensure that everyone, regardless of economic circumstances, has access to a university education. Since 2007 the University has awarded more than 1,443 Opportunity Fund Fast-Track Bursaries and more than 238 student recipients have already graduated.
For more information:
Teresa Murray, Communications and Annual Giving Manager
The University of Winnipeg Foundation
Tel. 204.786.9014 | t.murray@uwinnipeg.ca