Jordan Tabobondung
Master's in Development Practice (MDP) in Indigenous Development
---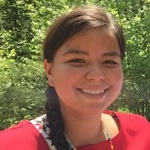 Jordan Tabobondung or "Wasanowndogziquay" (Woman who is heard from a long way) is of the Amik (Beaver) clan. An Anishinabe, Bodewadomi woman of the Wasauksing and Shawanaga First Nations she grew up along the shores of Georgian Bay. 
She attended Algoma University as well as Shingwauk Kinomaage Gamig to earn her degrees of a Bachelor of Arts in Anishinaabemowin and a Certificate in Community Economic and Social Development in June of 2014. 
In February of 2015 Jordan accepted an internship at the Northern Ontario Research Development, Ideas and Knowledge (NORDIK) Institute as Partnership Development Coordinator for Social Entrepreneurship Evolution and Urban Indigenous Youth for Change.