Ari Phanlouvong
Master's in Development Practice (MDP) in Indigenous Development
---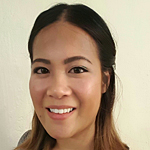 Ari was born and raised in Saint-Boniface, Winnipeg to her Laotian refugee parents who came to Canada in 1980. Her passion for humanitarian work was ignited at a young age after a family trip to Laos where the family had travelled across the country to visit villages and schools in impoverished rural regions. Upon the family's return, she and her brother had contemplated ways to help those school children and were inspired to start School for Kids in Laos Inc. (SKL Inc.), a charity that is dedicated to rebuilding dilapidated schools in rural Laos. Since 2007, Ari has dedicated much of her free time to this charity and has been able to revisit Laos on two other occasions. Through these experiences, she learned to understand the importance of sustainable development.
During her undergraduate studies, she learned about the wide range of obstacles that Indigenous communities in Canada and around the world face when it came to fundamental human needs. She became particularly interested in the provision of health care to remote communities, which encompass her interest in medical anthropology and development.
Though her experiences focus largely on Laos and on the promotion of education, she is looking forward to gaining an extensive understanding and a set of practical skills for development in Canada and around the World.