Vanessa Tait
Master's in Development Practice (MDP) in Indigenous Development
---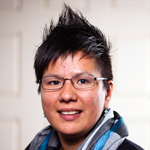 Tansi, my name is Vanessa Tait.  My Spirit name is Stands with the Wolf Woman.  I am a Cree woman from O-pipon-na-piwin Cree Nation, also known as South Indian Lake, Manitoba. I was born and raised in northern Manitoba, and am very proud of my roots as a Cree Woman.
Currently, I am obtaining my Masters in Development Practice - Indigenous Development at the University of Winnipeg.  I completed my Bachelor of Commerce (Honours) Degree, majoring in Aboriginal Business Studies at the University of Manitoba in October 2012. Also, I participated and graduated from the Indigenous Women in Community Leadership program in August 2011 from the Coady International Institute at St. Francis Xavier University in Antigonish, Nova Scotia. In the program there was one-month of training and a three-month placement in my home community where I did a series of asset-based community development workshops, appreciative interviewing, and hands-on learning from community members.  Also, I am a Certified Technician Aboriginal Economic Developer (TAED), which I was recognized and obtained in 2014.
I have worked in various corporations, such as Manitoba Hydro, Royal Bank of Canada, Business Development Bank of Canada, The City of Winnipeg, Asper School of Business and also other community organizations.
I have presented and attended conferences such as International Indigenous Voices in Social Workers Conference 2013, World Women 2011, Native Women's Association of Manitoba AGA, National Aboriginal Women's Summit, Vision Quest, Aboriginal Financial Officers Association Conference, and also was a participant in the Cando 6th Annual National Youth Panel and various Cando Conference throughout Canada, I was a Board Member for the Council for the Advancement of Native Development Officers for a one year term in 2012. Currently, I am the Secretary for Manitoba Moon Voices Inc, a non-profit Indigenous women's organization that myself along with other amazing women co-founded in 2012.