Esther Awotwe
Master's in Development Practice (MDP) in Indigenous Development
---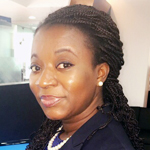 I appreciate the need to give back to the society that has invested in my life. My interests in community work and engagements deepened as a result of my active participation in volunteer activities. These activities in my academic, professional and religious life have strengthened my belief that in life we should be each other's keeper.
Although my previous educational and professional work have been focused on managerial, financial and administrative issues, my volunteer activities and passion for community service motivated me to pursue the Masters in Development Practice Program.
My long term interests transcend professional lives because to me giving back to the society I come from is much more rewarding and gratifying than monetary incentives.