Nana Araba Asaam
Master's in Development Practice (MDP) in Indigenous Development
---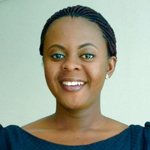 Nana Araba Agyeiba Asaam was born in Ghana. She grew up in the western part of the country, Takoradi.
She attended Cape Coast University where she received her Bachelor's Degree in Education. She is also professionally affiliated to the Association of Chartered Certified Accounts (ACCA) - level two candidate. She has six years of working experience in the financial industry. In 2009, after graduating from the University, Nana Araba started working for GN Bank, Ghana as a Financial Analyst. She moved on in 2012 to work for Energy Bank Ghana as a Customer Loyalty Officer and then as a Customer Relationship Manager.
In 2013, Nana Araba had the opportunity to partake in a program to engage unemployed youth in mechanized farming as a means to livelihood empowerment. Using the Local Government premises in her district, she has offered free career council and tuition to pupils. She has equally participated in voluntary rural development programmes organized in her district, and facilitated seminars organized to sensitize the rural people on the need to participate in decision-making.
Under the auspices of the National Youth Employment Program (NYEP) of Ghana- Nana Araba has facilitated cocoa farmers in her village access subsidized loans from financial institutions and individuals for their farming businesses. Many youth in the district have been enrolled into Youth in Agriculture, Youth in Local Governance and Community Planning, and Youth in Vocational/Technical Training Programmes.
Nana Araba is currently enrolled in the Master's in Development Practice Program at the University of Winnipeg to enable her gain broad knowledge and practical skills needed to understand and respond to complex global development challenges, a goal she intends to passionately pursue.