Aliraza Alidina
Master's in Development Practice (MDP) in Indigenous Development
---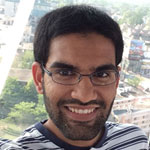 Aliraza graduated with a Specialized B.A. Honors in International Development Studies as a magna cum laude from York University in Toronto. His areas of concentration were 'Diaspora and Migration', 'Politics, Governance and Policy' and 'Political Economy'.  Prior to that, he completed a 3 year advanced diploma program in International Business Administration from Seneca College in Toronto. 
Aliraza is of a mixed background: he is of Indian ancestry, born in Kenya and raised in Burundi. He speaks fluently 5 languages including French, Swahili, Gujarati and Urdu. Growing-up in Burundi and traveling to over 10 countries (in 4 continents), Aliraza has been exposed to war, poverty and developmental challenges. This, together with his passion for social justice, human and social development, led him to an academic path in International Development Studies (IDS).
Having completed a BA in IDS, Aliraza will now pursue the MDP program at the University of Winnipeg. He has been awarded the Queen Elizabeth II Scholarship by the University of Winnipeg. Through this program, he hopes to enhance his understanding in development issues in a more comprehensive and integrative way, incorporating a multidimensional approach through engaging with diverse disciplines namely that of Social Sciences, Natural Sciences, Health Sciences and Management. The 'Indigenous Development' component of the MDP program is of great importance, considering the developmental challenges faced by indigenous populations globally.
Aliraza hopes to benefit from the global network that this program is part of, and he is looking forward to acquire hands-on practical experience through the national and international field-placements.