Naomi Gichungu Wanjiru
Master's in Development Practice (MDP) in Indigenous Development
---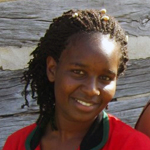 I am from the Kikuyu community in Kenya. My background is in Environmental Education and this has seen me work with various communities in Central Kenya and the Coastal region in areas of conservation. My passion has been to impart knowledge to communities and work with them to conserve their natural resources.
Recently I was engaged in research in the arid and semi arid areas of my country, working there was the best thing that happened to me as it was nothing to what I was used to. I interacted with the pastoralist community of the Pokot in the East and West Pokot regions. Learning from their lifestyle and their rich culture has since shaped my thinking and I desire to work with the indigenous communities. I am particularly interested in empowering the girl child who in my opinion had to face many challenges ranging from circumcision and to early marriage.
Last year I participated in the Canada World Youth exchange programme between Kenya and Canada. This experience gave me a chance to learn about the Aboriginal communities in Canada which deepened my interest to work with indigenous communities.
The Master's in Development Practice at the University of Winnipeg I believe will guide me in exploring how to work with indigenous communities in areas of livelihoods, food security and tourism.