Manna Sainju
Master's in Development Practice (MDP) in Indigenous Development
---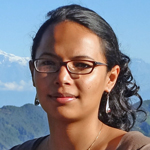 My family originally comes from a small village in the hills of western Nepal where my father grew up. With humble beginnings and a lot of determination, he worked very hard to educate himself and eventually earned a doctorate degree from Russia. He is my inspiration and a role model from whom I learnt that with determination we can unfold happiness for ourselves, for our family and the community.
Through my study and career I want to spread the message that I learnt from my father. I received a Bachelor's Degree with Honours in International Development Studies. My interest and enthusiasm took me to India where I worked with a local NGO pioneering the concept of micro health insurance for rural communities. I then volunteered in Nepal supporting projects related to sustainable community development with a focus on social inclusion, which mostly strived to promote participation of disadvantaged communities there. I helped in writing winning proposals to fund projects for development of indigenous fishing community and for the promotion of women's rights in Nepal. In addition, I worked on a project for the promotion of social accountability for which I was responsible for monitoring the monthly project activities of 104 grassroots organizations working across 43 districts in Nepal.
Through my masters study I hope to gain a deeper understanding of development as applied to indigenous people. My father always says "Knowledge is incomplete without experience and vice-versa." In my life and career I want to have both and I wish to further the journey of learning through the Master's in Development Practice here at University of Winnipeg.