Samantha Clarke
Master's in Development Practice (MDP) in Indigenous Development
---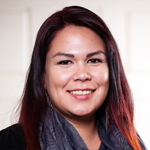 My name is Samantha Clarke. I am originally from Norway House Cree Nation located approximately 800km north of Winnipeg. I have relocated many times growing up and have travelled to various communities across Manitoba. I have seen the lack of economic opportunity and how that affects the livelihoods of many families. With this program, I want to develop and utilize a personal "toolkit" that will give me the ability to foster economic opportunities in First Nations communities across Canada. What I continually see is that there are a multitude of issues/struggles with the current conditions that many of students from northern communities face. Realizing that change needs to come from optimizing opportunity in places where it is severely lacking is ultimately where I would like to be.
I have been looking forward to be a part of the Masters of Development Practice in Indigenous Practice since the inception of the program. Through my personal journey I have seen the many systemic issues that affect many of the Indigenous communities here in Canada and often wonder what I can do to help bring change.
I graduated from the University of Manitoba with my Bachelor of Arts degree (2009), which specialized in Indigenous Studies and Canadian History. I then, continued to peruse my Bachelor of Education degree (2011) to teach at the senior year's level (grades 9-12). As well as I was featured in SAY magazine for my achievements with the ACCESS program at the University of Manitoba (2011). Since then I have worked as a high school humanities teacher at Maples Collegiate. During my time as an educator I participated in various committees that are dedicated to supporting Aboriginal Education. This includes: the Council of Aboriginal Education in Manitoba, a school initiated committee that supporting students transitioning from Northern communities, as well as more recently, the advisory committee for "Restoring the Sacred" (RTS). My outside interests include spending quality time with my children, reading and exploring local histories.