Nana Ama Addae-Boahene
Master's in Development Practice (MDP) in Indigenous Development
---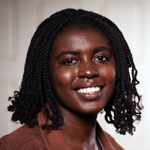 I am from one of the smaller and lesser known tribes in Ghana called the Guans. My tribe and background has hugely influenced who I am as a person today. I believe that finding solutions to developmental issues around the world will lead to also finding solutions for my people.
Issues about the development of my country have always fascinated me and it came as no surprise to my family and friends when I decided to major in Environment and Development studies at the undergraduate level. I have been involved with a number of organizations such as CARE International and Cadbury Cocoa Partnership.
The Master's in Development Practice program with its focus on developmental problems such as poverty, population growth; uneven distribution of resources, food production, issues dealing with gender inequalities, ethnicity and class will provide me with problem solving skills, managerial skills, and critical analysis skills that are relevant to tackling development and sustainability issues of any nature especially those that are faced by my people.