Badriyya Yusuf
Master's in Development Practice (MDP) in Indigenous Development
---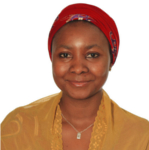 I was born in Kano State, an ancient city but bustling commercial hub of Northern Nigeria.
I studied Business Administration for my undergraduate studies at the International Islamic University in Malaysia and worked as an Operations Manager for several years in a bio-tech company in the United States.
I became interested in the field of development practitioners when I volunteered to work for some gender based NGOs. The experience opened my eyes to the struggles of those who live in poverty, sometimes even in the midst of plenty. It also taught me that development often "has a woman's face".
I joined the MDP Program at University of Winnipeg because I believe that it will help me to put my lifetime of experience and observation into perspective. I also hope that the holistic approach of the program will enhance the knowledge and skills sets which I require to succeed in the field of sustainable development.