Douglas Baba
Master's in Development Practice (MDP) in Indigenous Development
---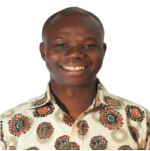 Born of illiterate parents engaged in peasant farming activity in a typical rural community in Ghana, I have struggled to make development issues a priority in my life. The strong affection I have for a development-related program, emanates from the experience I have had about the wide dichotomy in development between rural and urban areas in Ghana where rural people suffer most. Even though I hold a 3-year post-secondary professional teacher training certificate, I did not relent in my efforts to pursue a development-related course at the university with the view of becoming a development expert.
The strong enthusiasm I have for the MDP program, I believe, would serve as a boost for me to work assiduously in order to acquire the necessary theoretical and practical skills needed for development work.
Professionally, it is my ambition to use the knowledge acquired to help in the promotion and implementation of a holistic policy intervention to achieve a sustainable development both locally and abroad. Again, becoming an educator, collaborator and a facilitator in community-based development is also my professional agenda.