Ian Toal
Master's in Development Practice (MDP) in Indigenous Development
---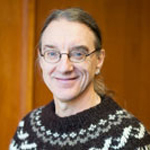 Ian Toal joined MDP because the program ties together his academic and work history, as well as his personal beliefs. His love of science and the natural world led him to study Entomology. During this time, he developed an interest in tropical diseases and parasitology. After graduation, he worked in agriculture, specifically integrated pest management. He has since started a family, and returned to school to study Nursing, working as both a psychiatric and an intensive care nurse. The latter gave him an appreciation of the medical challenges faced by North American aboriginal populations, especially with the delivery of health care services to remote areas.
Ian recognizes that humans are part of the ecosystem, and that individuals need to find ways of living that will preserve both the natural world and our ways of life. He believes that every problem has a solution and the solutions are best when people who are living the situation contribute to them.
Ian believes the MDP program will create sustainable development practitioners due to the format and practical aspect of the program.