Janelle Poiron
Master's in Development Practice (MDP) in Indigenous Development
---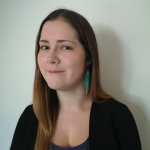 Tansi. My name is Janelle Poiron and I'm a proud Metis woman from Manitoba. I recently graduated with my B.Sc in Biology with a second major in French from the University of Winnipeg in 2020. I've always been interested in health and science while also striving to maintain my French Heritage.  
I wasn't raised with Metis traditions; luckily I found my way to my Indigenous community. I've worked and volunteered for the Manitoba Metis Federation, the recognized Manitoba Metis government and Louis Riel Institute, one of their affiliates that is also a non-profit. During my 5 years there, I was blessed to have roles steeped in culture and history where many great Indigenous peoples took me under their wing. I was fortunate to encounter an elder that pushed and inspired me to greater heights. Therefore, I decided to combine my interest in science with Indigenous peoples and pursue Indigenous health. 
My research interests include all aspects of Indigenous health including, health programming, Indigenous epidemiology and health equality. I hope to eventually go on to pursue a PhD and work on issues affecting my home community of the Red River Settlement.