Hannah Johnson
Master's in Development Practice (MDP) in Indigenous Development
---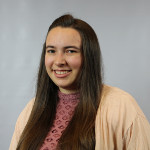 I am originally from Duluth, Minnesota (USA). I spent the last four years in Morris, Minnesota completing a bachelor's degree in Native American and Indigenous Studies at the University of Minnesota Morris. I received a Racial Justice scholarship towards a semester abroad through the Higher Education Consortium of Urban Affairs (HECUA). HECUA New Zealand focused on sharing Māori cultural perspectives, and ways in which New Zealand's sustainability practices were shaped by environmental policy. The teachings of the Tangata Whenua (People of the Land) resonated with my Anishinaabe values, and helped me to develop a sense of international Indigenous solidarity.
I am extremely passionate about Indigenous food sovereignty. In Aotearoa New Zealand, my final project featured voices of Māori leaders in Hua Parakore, a NZ movement towards Māori food sovereignty. In the summer of 2019, I conducted a McNair summer research project including original interviews from food sovereignty experts around Minnesota and Wisconsin, ranging from tribal leaders to policy advocates to farmers.
I hope to use my master's degree to work within tribal communities as a food sovereignty advocate. One of my dreams is to return home to the Bois Forte Band of Ojibwe and work with our tribal Chairwoman to promote food sovereignty in whatever capacity works in our chilly climate. One of the most exciting ideas to me is traveling to Indigenous communities in a global context, and building relationships that benefit tribal communities both near and far.
In my free time, I love to socialize with friends! In 2020, that looks more like screen time, and I'm looking forward to spending time outside with friends, be it camping, hiking, exploring or swimming! I also love getting together and making delicious food with people!