Emeka Ezeh
Master's in Development Practice (MDP) in Indigenous Development
---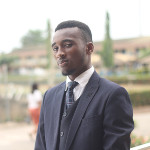 My name is Emeka Ezeh and I live in Abuja the capital city of Nigeria. Emeka is a recent graduate of Babcock University where he graduated with a Bachelors in International Law and Diplomacy at the faculty of Political Science and Public Administration.
After graduation, Emeka worked with the National Human Rights Commission, deployed to the Civil and Political Rights Department. He led a project with the National Human Rights Commission on a sensitization visit on the sites for Compulsory Treatment and Care of Victims of Gunshot wounds that was established by an act of parliament in Nigeria (Act 2017). These visits were targeted at four hospitals in Abuja, Nigeria. He also volunteered with a certification at the Nigerian Red Cross Society wherein they were involved in several medical outreaches to the Internally Displaced Persons Camps (IDP) in Nigeria.
Emeka worked as an intern with the United Nations High Commissioner for Refugees, Abuja Nigeria deployed to the Protection Department. His work in this area gave him the great opportunity to monitor developments in some of the areas that require protection by international community in Nigeria. It has further equipped him the knowledge and skills required to contribute to the analyses of social environments in order to provide protections for the most vulnerable persons in Nigeria. He also undertook some online trainings with the UNHCR global learning center which equipped him in understanding the implementation of UNHCR protection interventions in priority areas and its leadership role in coordinating the Protection Sector Working Group (PSWG) in the United Nations.
He is currently working on the eradication of statelessness project in Nigeria through accelerated birth registration of IDP/Refugee children. To this end, UNHCR is partnering with other stakeholders; from UN Agencies Funds and Programs and other implementing partners towards eradication of statelessness in Nigeria.  Working with UNHCR has given him the required experience to understand the plight of indigenous people in Nigeria and around the world. Global issues like refugee crisis, statelessness and internally displaced persons mostly affect indigenous peoples either as victims or host communities. At this end, Emeka looks forward to the many opportunities the MDP has to offer.