Tunde Ogunje
Master's in Development Practice (MDP) in Indigenous Development
---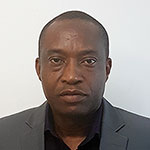 Tunde Ogunje is an associate of both the Institute of Chartered Accountants of Nigeria [ICAN] and the Chartered Institute of Stockbrokers [CIS]. He also holds the Higher National Diploma (HND) in Accountancy from Ondo State Polytechnic, Owo in Nigeria. He has completed the Canadian Securities Course (CSC).
Tunde has considerable experience in Accounting, Finance, Investment and Business Consulting. Over the years, he has been involved with some development-related consulting assignments on youth entrepreneurship and employability, access to finance (A2F), deploying e-commerce to gain access to market, capacity building for Small and Medium Enterprises.
Presently he works for Indigenous Management Group where he performs accounting functions, supports in the preparation of budget and rendition of various reports to different agencies of government on behalf of some First Nation Communities.
Tunde's interest in the MDP Program is as a result of his desire to be involved in Program Development and Policy Analysis, working with Governments, NGOs or Development Institutions, to support Entrepreneurship Development and influence Economic Development, especially in rural communities and developing economies.