Mackenzie Roop
Master's in Development Practice (MDP) in Indigenous Development
---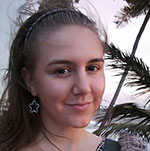 Mackenzie Roop is in the unique position of holding Canadian and Australian citizenship and aims to pursue Indigenous-led causes in both her countries.  
There is a distinct lack of fair legislation geared towards the economic, environmental and social well-being of Indigenous peoples, and there is a lot of work to be done. Mackenzie is especially interested in cultivating peaceful dialogue and procedure to ensure that the demands of Indigenous communities are being met legitimately, sustainably, and effectively. 
Mackenzie grew up in Asia, attended the United World College (UWC) Atlantic, and completed her B.A. at McGill University with a double major in International Development and World Religions. Mackenzie has researched the effectiveness of short and long-term aid placements, interned with CJPME (Canadians for Justice and Peace in the Middle East), and been an editor-in-chief for academic and poetry journals. A global nomad, she questions the relationship between religion, politics, and identity-based conflict. Mackenzie looks forward to the many opportunities that the MDP has to offer.