Kiera Kowalski
Master's in Development Practice (MDP) in Indigenous Development
---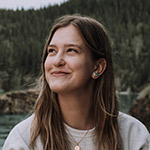 Kiera Kowalski is originally from Fort Frances, a small town in Northwestern Ontario, but has spent the past four years in Ottawa completing her bachelor's degree in Journalism and Communication studies at Carleton University.
Her decision to attend the University of Winnipeg for the MDP stemmed from a trip to the Yukon Territory in July of 2018 for a special topics Indigenous journalism course. The course took her out of the classroom and into Northern communities where she learned first hand from members about the inequities and injustices Indigenous people face, and how such topics are reflected in the media.
In the final year of her bachelor's degree, she focused her studies on how Indigenous people are portrayed in the media, and what journalists should do to accurately and fairly depict their stories.
Despite how much she loved storytelling and her time at Carleton, she realized that a long term career in journalism wasn't for her. Kiera decided she wanted to further her understanding of Indigenous issues in today's society and develop the skills needed to address them.
She is particularly interested not only in Indigenous education, but curriculum building and how the Indigenous experience is portrayed to students in the education system.
Her ultimate goal is to combine her preexisting storytelling and communication skills, with the skills she will acquire through the MDP to foster development and create positive relationships between Indigenous and non-indigenous communities.