Kate Robb
Master's in Development Practice (MDP) in Indigenous Development
---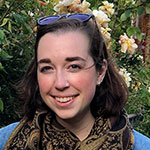 Kate recently graduated with a B.A. in Environmental Studies and a minor in Political Science from the University of Winnipeg. During her undergraduate studies, Kate gained a foundational knowledge of Indigenous history and issues in Canada, and is eager to further expand upon this by learning directly from Indigenous communities through the MDP program. Within the realm of sustainable development, Kate is particularly interested in the natural environment, and the role that the human/environment relationship plays in preventing and mitigating against environmental degradation.
In 2018, Kate had the opportunity to visit Churchill, Manitoba, to begin working on a project that aims to develop a Community Energy Plan for the town. This experience provided her with a new-found appreciation for remote northern communities and the role they play in sustainable development. She is looking forward to continuing this project through work as a Research Assistant with the Community Appropriate Sustainable Energy Security (CASES) partnership.
Kate is excited to begin the MDP program, and to learn and gain new skills both in the classroom and in the field.