Babatunde Olusola Alabi
Master's in Development Practice (MDP) in Indigenous Development
---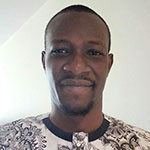 Babatunde Olusola Alabi has practiced actively in the field of international development the last seven years as a Monitoring & Evaluation specialist for a number of development programs and interventions including Governance, Political Systems, and Health Systems Strengthening. He possesses a Bachelor of Laboratory Science degree in Medical Microbiology/Parasitology and a master's degree in Public Health.
Babatunde worked with a number of international not-for-profit organizations including FHI 360, Catholic Relief Services, African Field Epidemiological Network, and the International Republican Institute, in Nigeria, particularly supporting M&E Systems and program management. These organizations are focused on helping developing countries to reduce the menace of sustainable development challenges such as diseases, inequality and governance failure.
Babatunde's time with FHI 360 helped him to appreciate the level of devastation that HIV/AIDs have done to over 3,000,000 of his countrymen and women and played his part in contributing to the reduction in prevalence. Working with Catholic Relief Services helped him to understand the impact of the scourge of malaria on the under-five population in his country and therefore contributed to designing and implementing intervention programs aimed at reducing maternal and child mortality due to malaria. His sojourn at African Field Epidemiology Network helped him to appreciate the level of ruin that Polio and other Vaccine Preventable Diseases have caused in the lives of children in Nigeria and so, played a role in the national effort towards ensuring an increased vaccination coverage. His work with the International Republican Institute was a time to channel effort towards making subnational governments become more responsive and accountable to the citizens, by making policies that reflect citizens priorities and delivering quality public services that address the common socioeconomic gaps relating to Primary Healthcare, Basic Education and WASH. It was also a time to actively promote the inclusion of the marginalized groups, such as women, youths, and Persons Living with Disabilities, in political decision-making processes.
Babatunde's core competency lies in the design of development programs and interventions, program implementation, and Monitoring and evaluation using both qualitative and quantitative techniques. He has a strong passion for transforming lives through sustainable development initiatives. Babatunde believes that MDP will be an opportunity to build on his skills to be a successful practitioner of sustainable development.