Alexandra Nychuk
Master's in Development Practice (MDP) in Indigenous Development
---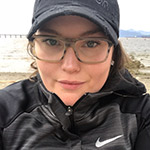 Alexandra is a Michif women and citizen of the Metis Nation born and raised in Southern Manitoba on her family farm. Being both Indigenous and a first generation Canadian has provided her an unique view. Athletics has always played a significant role in her upbringing. She attended Minot State University and obtained a Bachelor's of Science degree with honors in Athletic Training while competing in Hockey at a collegiate level. She holds a Board of Certification in Athletic Training, and has practiced the past four seasons with the Pembina Valley Hawks AAA Midget Male Hawks as the Athletic Trainer.
Upon returning home she attended the University of Winnipeg where she studied a wide range of subject matter while pursuing the prerequisites for Medicine. Alexandra realizes that having a foundation in humanities and social implications of health has been fulfilling for her understanding of holistic perspective of health.  
Alexandra has spent the last two summers working for the Louis Riel Institute (LRI), a Department within the Manitoba Metis Federation (MMF). The Summer of 2018 she spent working at the Riel House in a collaborative effort between the Louis Riel Institute and Parks Canada and delivered a variety of educational programs and provided interpretive tours of Riel House. She just finished up her second term working at the MMF where she fulfilled the role of research assistant focusing on Indigenous research ethics. Other duties included recording oral histories, and archiving materials.
 Alexandra is interested in indigenous healthcare inequality, systemic racism within healthcare, and Metis specific issues. She is excited to commence the MDP Program and eager to expand her interdisciplinary skills.