Alexander Keone Kapuni Oldroyd
Master's in Development Practice (MDP) in Indigenous Development
---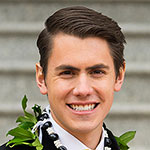 Alex is kanaka maoli and Caucasian from Texas and from Utah. His family comes from Hawaiʻi and Utah and has strong ties to several tribes of the Southwestern Unites States.
Alex is a recent graduate of Brigham Young University, where he graduated with honors with a Bachelors in English Language and Literature and a certificate in social innovation and entrepreneurship. He also holds a certificate in business fundamentals from Harvard Business School online and a certificate in Human Centered Design from IDEO.
Over the past several years, Alex has volunteered and worked for several nonprofits and government entities including the Religious Freedom and Business Foundation, the Confederated Tribes of the Goshute Reservation, the Utah State Legislature, and Indigenous International. In his work with Indigenous International, he helped produce one of the first ever reports of its kind on economic development challenges specific to the eight tribes of Utah for us by the Utah Division of Indian Affairs. He has also worked for and started his own consulting business to help nonprofits and tribal organizations raise funds for development projects. These experiences have given him a front row seat to many solutions being implemented to development challenges within his community and abroad and have motivated him to continue to research, design, and implement solutions of his own.  
As an entrepreneur and business owner, Alex hopes to study ways in which entrepreneurship and innovations such as impact investing and social impact bonds could be used to improve economic development among indigenous populations. He is also interested in digital sovereignty, public policy, and language revitalization. In his spare time, Alex enjoys writing historical fiction inspired by his Hawaiian heritage as well as working on Hawaiian language children's books with his wife, Brenna.